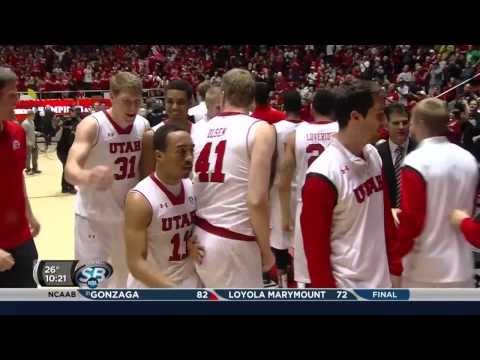 View 34 Items

I was born in '93, so I was right in that era when basketball in Utah was so big.

—Jordan Loveridge
SALT LAKE CITY — If it seems forever since the University of Utah was shaking up the basketball establishment, taking down the big guys, there's good reason.
It has been — as far as today's Utes are concerned.
That much was obvious on Saturday after they had upset No. 25 UCLA, 74-69, at the Huntsman Center. The Utes finally had their heart rates under control when I stopped Jordan Loveridge in the interview room.
"What do you remember about those '90s teams?" I asked.
Loveridge politely acknowledged Andre Miller, Keith Van Horn, Michael Doleac, Britton Johnsen and other Utes he has since met. Then delivered the news as gently as he could: He didn't actually remember a lot.
He was 5-years old when Utah's Final Four trip happened.
"I was born in '93, so I was right in that era when basketball in Utah was so big," he said.
On Saturday, Utah's teams of the 1990s were honored at halftime. Josh Grant, Byron Wilson, Britton Johnsen and Michael Doleac were among the returnees. Keith Van Horn had to cancel earlier in the week. Andre Miller was tied up with that awkward playing-time situation in Denver. Alex Jensen, now an assistant with the Jazz, had his own game to consider.
But for anyone who was there, it was a trip back in time.
Way back, to be technical.
Utah's last home win over UCLA was in 1928.
After that, there were some great years at Utah, thanks to winning coaches such as Vadal Peterson, Jack Gardner and Jerry Pimm. Then came Rick Majerus, whose teams were as big as his personality. In the 1990s, they won seven conference titles and nearly every home game.
"There's an awful lot of history at this place," coach Larry Kyrstkowiak said. "This is a great job, a great place to be, and I think this is a basketball-proud state."
At least it was on Saturday.
The retro tribute went the way those things always do. The problem was that the Utes haven't been as good since that era.The worry for the Utes on Saturday was that the Bruins, a 14-3 team, might embarrass them. It wasn't Lew Alcindor's, Reggie Miller's or even Ed O'Bannon's Bruins, but still.
Utah wasn't playing a team; it was playing a brand.
"I think we all got a little charged," Krystkowiak said.
It surely looked that way most of the afternoon. Though shaky down the stretch, there was no denying they relished the challenge. In the final 10 minutes, they saw their 17-point lead dwindle to two. But Krystkowiak's team made enough free throws, in the right time, to salt it away.
Lurking in the background were the '90s, an era when "Titanic" was, well, sweeping people off their feet. "Toy Story" was big and Buzz Lightyear was saying what Rick Majerus was preaching: To infinity and beyond.
Along with the seven conference regular-season championships came seven NCAA tourney trips, four Sweet 16s, two Elite Eights and one championship game appearance for the Utes, as well as a 54-game home win streak.
The sad part on Saturday was that the architect of it all was missing. Majerus, whose sweater hangs as large as his personality in the Huntsman Center, wasn't around. He left a decade ago for health reasons, then resurfaced at St. Louis University for a few years before passing away in 2012 due to heart failure.
For a man who worried about his heart for decades, his teams always showed plenty of it. He took a team that had lost All-America Keith Van Horn and the next year went to the NCAA championship game.
So for the 30 or so former Utes, the timing couldn't have been better. Afterward, Krystkowiak answered media questions but lingered in his chair a moment.
"You don't want to leave, do you?" someone joked.
"I don't," Kryskowiak said, recalling times when he'd just as soon have been gone early.
But on this night it seemed he could have stayed a decade.
Email: [email protected]; Twitter: @therockmonster; Blog: Rockmonster Unplugged