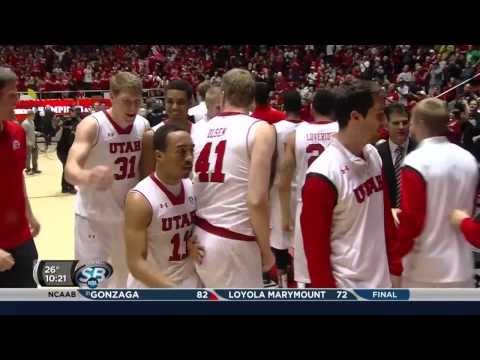 View 34 Items

He's been bringing it in practice consistently with a smile on his face. The one thing I've noticed is that he's much improved defensively and is athletic and long and I thought he would be a good guy today.

—Utah coach Larry Krystkowiak, on Kenneth Ogbe
SALT LAKE CITY — Kenneth Ogbe, Utah's 6-foot-6 freshman guard from Germany, hasn't seen much time on the floor for the Utes this year. His last significant action came in mop-up duty of a blowout win over St. Katherine three weeks earlier. Against USC two nights earlier, he played all of 15 seconds.
Yet there the 19-year-old was, playing significant second-half minutes Saturday afternoon against UCLA, making all four of his shots from the field and hitting a pair of pressure-packed free throws in the final minute of Utah's 74-69 victory over the Bruins.
Ogbe finished with a career-high 12 points in just 12 minutes and was a big reason why the Utes beat UCLA for the first time at home in 86 years.
"It's a great example of a kid that stays with it when presented with an opportunity and beyond hitting some jump shots, making some really positive plays,'' said Utah coach Larry Krystkowiak.
The Ute coach decided to give Ogbe more minutes Saturday because he wanted to use his size against the taller Bruin lineup. Plus he's earned it in practice.
"He's been bringing it in practice consistently with a smile on his face,'' Krystkowiak said. "The one thing I've noticed is that he's much improved defensively and is athletic and long and I thought he would be a good guy today.''
After hitting his only shot in the first half, Ogbe sank a pair of 3-pointers and another jumper during a five-minute stretch when the Utes extended their lead to 58-43 at the 10:15 mark.
Ogbe sat on the bench while UCLA crept back into the game, but with 1:01 left, Krystkowiak put him back in the game with the Utes up 69-65. Eight seconds later, Ogbe was fouled.
Even though he was shooting 75 percent from the line on the season, it was a tough situation for a freshman. Or at least it seemed.
However, he calmly swished both free throws to push the lead back to six.
"That's big time to stand at the free-throw line at that moment and to come through,'' said Kystkowiak.
When asked if he felt nervous, Ogbe said, "Not really. My teammates give me a lot of confidence.''
Krystkowiak said everyone in the locker room was thrilled for Ogbe and the contribution he made Saturday.
"We need every single person to come in like Kenneth did today,'' said Brandon Taylor. "He lit it up and we needed that.''
EX-UTES HONORED: About 30 former players from Utah's championship teams of the 1990s were honored at halftime.
Among those on hand were Josh Grant, Michael Doleac, Phil Dixon, Britton Johnsen, Jeff Johnsen, Tony Harvey, Jimmy Soto, Byron Wilson, Craig Rydalch, Larry Cain and Terry Preston.
The players got together for a dinner on Friday night and had a reception before Saturday's game before being honored at halftime at the Huntsman Center.
LAST TIME: Folks in the press box were trying to figure out the last time Utah beat a top-25 team, nearly forgetting that just last March, Utah defeated No. 19 Oregon 72-62.
2
comments on this story
Before that, the Utes had lost 11 straight games against top 25 teams going back to a 66-65 home win over No. 16 Gonzaga on Dec. 31, 2008.
LONG TIME COMING: Diehard Ute fans would know that the Utes beat UCLA four times previously, including a 67-61 victory in the 1983 NCAA Tournament.
But not many current Ute fans were alive the last the time Utah beat UCLA in Salt Lake. That was clear back in 1928 when Utah won 44-28.
UCLA had won the two previous meetings between the two teams in the Pac-12 and leads the overall series 6-5 after Saturday's Ute win.