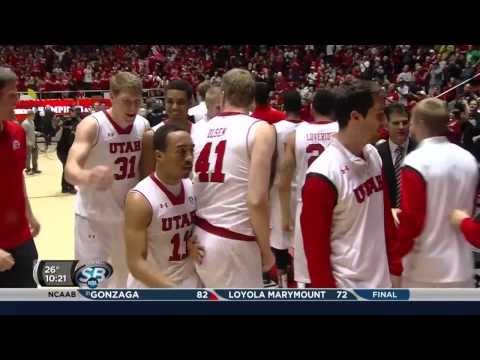 View 34 Items

It's a proud day for me and I know the kids are ecstatic. It's a really good day for Utah basketball.

—Utah coach Larry Krystkowiak
SALT LAKE CITY — As soon as Utah coach Larry Krystkowiak could make his way over to the M.U.S.S., he let out a victorious yell and gave the enthusiastic crowd a "U" hand signal. The Utes' 74-69 win over 25th-ranked UCLA was cause for great celebration Saturday in the Huntsman Center.
"It's a proud day for me and I know the kids are ecstatic," Krystkowiak said, while including his staff and the fans in the positive vibe. "It's a really good day for Utah basketball."
The Utes improved to 14-4 overall and 3-3 in Pac-12 play with the victory. It was their first win over the Bruins since the 1983 NCAA Tournament and first triumph over the iconic program in Salt Lake City since 1928.
"I'm just proud of the fact that we were able to close it out," Krystkowiak said. "Even though it wasn't pretty and it wasn't as positive of an ending as it could have been, it's a 'W' against a really good team that we had yet to have any success against in this league."
Before his postgame press conference, Krystkowiak reminded his players that this is why they wanted to be part of the Pac-12. He credited his team for working really hard and capping off a terrific week. The Utes defeated USC 84-66 on Thursday.
UCLA (14-4, 3-2), though, proved to be a much greater challenge. Even though the lead changed hands just three times and was tied only once, Utah needed to make five free throws in the final 53.7 seconds to secure the victory.
The game-saving stretch began with freshman Kenneth Ogbe hitting two.
"That's big time to stand at the free-throw line at that moment and come through," Krystkowiak said.
Brandon Taylor added a pair with 22.4 seconds remaining after the Bruins had pulled to within 71-69. Delon Wright closed things out by making one with 11.1 seconds to go.
The foul shots allowed Utah to fend off a furious UCLA rally down the stretch. The Bruins trailed 53-36 with 12:47 left to play.
"Fortunately we made some plays when we needed to," Krystkowiak said.
Jordan Loveridge finished with a team-high 17 points and nine rebounds for the Utes. Ogbe, Taylor and Wright scored 12 apiece to assist the effort. Wright also had eight rebounds, six assists, three steals and two blocks.
"It was just fun all the way around — from start to finish," Loveridge said. "We played hard, did what we could. We just stayed in it though any adversity in the game, and we came out with the win."
Loveridge noted that the Utes knew UCLA would make a run. He said the Bruins have a good team with shooters and guys that can get to the basket. Kyle Anderson led the Bruins with a game-high 28 points and was 5-for-5 from 3-point range.
Utah, however, was able to weather the storm.
"It's a good feeling," Loveridge said. "It's a good win for the program and all the fans that came out."
An announced crowd of 12,267 was on hand as Utah took the lead for good with a run in the first half, but still needed a decisive stretch late in the game in order to prevail.
"We never gave up," Taylor said. "That's one thing about us, we never gave up this game. That's why we got the 'W.' "
Trailing 18-15 midway through the first half, the Utes reeled off 15 straight points to seize control of the game. Wright, Loveridge, Ogbe and Dakarai Tucker scored during the pivotal outburst. The Bruins were held scoreless for 7:02 while missing 10 consecutive shots and turning the ball over four times.
When it ended, Utah was up by 12. The Utes went on to hold a 36-26 advantage at halftime.
"They really played well in the first half and we didn't," said UCLA coach Steve Alford, whose squad defeated Colorado 69-56 in Boulder Thursday night. "I thought we had a really bad start to this game, and this is a tough turnaround."
The Utes widened their lead early in the second half, opening things with a 17-10 spurt before the Bruins chipped away at the deficit and made things dramatic in the final minute.
"It just shows that we can win close games," Loveridge said.
Utah's four losses this season — to Boise State, Oregon, Washington and Washington State — have come by a combined nine points.
Defeating UCLA, Taylor acknowledged, is a confidence-builder for the Utes.
"We just have to take it on the road now," he said.
Utah's next three games are away. The Utes visit Arizona State and top-ranked Arizona next week before heading to Colorado on Feb. 1.
Email: [email protected]
Twitter: @DirkFacer