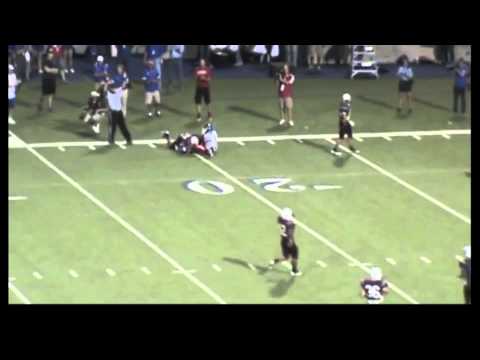 View 2 Items

BYU has been a part of me since I can remember. BYU is what I was taught by my dad, and I know he had a lot of success there. Being at BYU changed his life for the better, and I want that same type of experience he had.

—Trey Dye, son of former BYU football return specialist James Dye
ABILENE, Texas — For Trey Dye, it doesn't make much sense to play for another football program other than BYU.
The 5-foot-10 athlete, who is the son of former BYU great James Dye, committed to sign with the Cougars in February 2013. In doing so, he perhaps short-circuited the opportunity to be pursued heavily by other programs.
Since his commitment to the Cougars, other schools have shown overtures only to be shut down.
"Texas comes by quite a bit because one of my teammates (Lorenzo Joe) is committed there," Dye says. "Lorenzo always tells me they ask about how solid my commitment is to BYU, and he lets them know that my commitment is a hard one and that I'm not changing."
So why BYU?
According to Dye, it has a lot to do with how he was brought up.
"BYU has been a part of me since I can remember," he says. "BYU is what I was taught by my dad, and I know he had a lot of success there. Being at BYU changed his life for the better, and I want that same type of experience he had."
Most fans remember James Dye as the most prolific kick and punt returner in the history of the program.
Trey Dye will work to provide the same type of excitement while at BYU, and showed the same type of game-breaking skill his dad possessed this past year playing for Abilene Cooper.
Dye logged most of his time playing both running back and slot receiver. He was used during critical situations at safety, but didn't get a chance to return kicks or punts.
"I really wanted to, but it's the team policy to let guys who don't start play special teams," Dye says. "I know BYU coaches will give me the opportunity to return kicks and punts, and I'm excited for that."
If Dye proves able to approach his father's return prowess, fans may prove to be even more excited by the prospect.
Along with returning kicks and punts, BYU coaches hope to employ the Abilene speedster at the slot position. Dye was second on the team in receptions his senior year with 24 for 468 yards and four touchdowns. He was also second in rushing with 1,481 yards and 25 touchdowns on a 7.6 yards per attempt average.
His overall performance on the field earned him first-team All-District honors. Somewhat surprisingly, Dye isn't happy with his senior year performance.
"I'm always hungry for more and I'm never satisfied — that's how I approach the game," he says. "I look at things I could have done better and that drives me."
Dye will make an official visit to BYU the last weekend of January and is excited to meet his fellow commits — most of whom will be accompanying him on the trip. Since committing, he's forged relationships with many of his future teammates via Twitter, texting and other means.
"I haven't met any of them face-to-face, so I'm real excited for that," he says. "I've reached out to guys like Nick (Kurtz) and Cedric Dale and I can already tell we're going to be great friends. I've been told I'm real similar to Cedric with regards to how we look and play, so I think I'm going to grow real close with him while at BYU."
Dye is still deciding on certain plans to serve an LDS Church mission, and is focused on contributing to the team in any way possible.
"I love the program and like I said, it's really the only program I've ever wanted to play for," he says. "BYU has everything and a lot more than any other program. I mean, they get 65,000 fans out for every game. How many programs can say that? It's a great place to play football and to grow spiritually and get a great education. BYU is the only place for me, and I can't wait to get there."
Email: [email protected]
Twitter: @BrandonCGurney