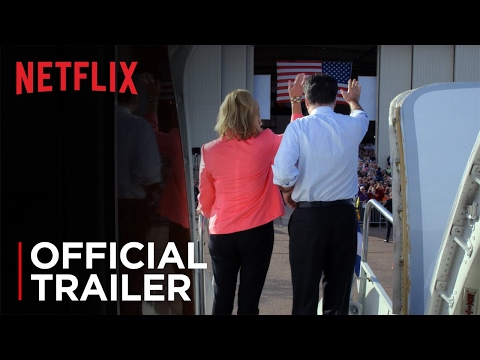 View 5 Items

The reaction to it reveals how we look at presidential candidates. I don't think we look at them as real people. The process ... prevents the general public from treating people authentically and seeing them as human beings.

—Greg Whiteley, documentarian
When Greg Whiteley began filming Mitt Romney's six-year quest for the presidency, the documentary filmmaker seldom had his camera trained on the candidate's family.
Like other documentarians of political campaigns, Whiteley was drawn to the intrigue of strategy meetings, filming the candidate and his advisers plotting their next move.
But, campaign strategists weren't as fascinated with Whiteley recording their every word and told him so.
"In most cases the candidate and his family are off limits. In my case it was the just the opposite. The campaign wanted nothing to do with me and the family was open," he said. "I couldn't explain how or why I got the family to trust me to the degree that they did. But they just did and I went with it. As a result it's great family drama."
The unusually personal political documentary "Mitt," about a candidate and his family living through the rigors of a presidential campaign, has its world premiere at this year's Sundance Film Festival with eight screenings, including the festival's Salt Lake City Gala at Rose Wagner Theater on Friday.
The film will be released through Netflix on Jan. 24.
No ground rules
Romney family members are not commenting about the film, the former candidate's son Josh said. And Whiteley said the family hasn't seen the final cut, although Josh Romney did view a pre-cut version last year.
But Mitt Romney was familiar with Whiteley's work before he let the award-winning filmmaker into the private confines of family gatherings.
Romney first appeared on Whiteley's radar in early 2006 after the filmmaker got an email mentioning that then-Massachusetts Gov. Romney attended a screening in Boston of Whiteley's popular documentary "New York Doll." The film is about the late punk rocker Arthur Kane, a reformed alcoholic who converted to The Church of Jesus Christ of Latter-day Saints.
"I was intrigued by that, that the governor of Massachusetts would be interested in movie about cross dressing punk rock stars," Whiteley recalled.
When he read that Romney was considering the GOP nomination for president, Whiteley told his producer about the idea of film documenting the ventures of another Mormon — this time one running for commander in chief.
Romney turned down Whiteley's first request. But when Whiteley got word, through Romney's son Tagg, that Romney's wife Ann liked the idea, Whiteley showed up at the family's Deer Valley home on Christmas Eve 2006. It was during that holiday break that the family would discuss the pros and cons of running and decide.
"Mitt was there. He let me in and I started filming," Whiteley said.
There were no ground rules on what Whiteley could film, only an agreement that he would not release any footage until Romney was done running for president or being president.
"I thought that would be two years at the most," said Whiteley, who recalled the indications were that the family would give national politics one shot and then move on.
Instead, it turned into a six-year project documenting a close knit family doing what families do — laughing, talking, crying, praying, eating, teasing, arguing — except in the extraordinary context of two presidential races.
Trevor Groth, director of programming for Sundance, said the intimate family setting of "Mitt" is what makes it fascinating — and unprecedented in political documentaries.
"So much of life is connected to family and the experiences of dealing with family are so inherently dramatic," Groth said. "I think artists tap into that, they get inspiration from that and I think they find truth in telling those stories."
Public perception
Throughout the 2012 presidential race, supporters of Mitt Romney constantly complained that the public didn't really know the man behind his too-good-to-be-true polished appearance and model family.
Pundits chimed in that the campaign could build trust and admiration among voters by talking more about the faith and family of the multi-millionaire Mormon and Republican nominee.
Romney friend Mike Leavitt — who won three terms as governor of Utah and served in President George W. Bush's cabinet before becoming a top adviser to the Romney campaign — explained the public is often caught in the middle of a process where candidates try to define their opponents.
"It's impossible to get to know a political figure in the context of a campaign," said Leavitt, who recalled seeing Whiteley on the campaign bus. "People are deliberately trying to define (opposing candidates) in ways that are negative and almost always exaggerated."
Whiteley is reflective about the feedback from those who have viewed the film, particularly from those who seemed surprised to see Romney doing mundane things, like picking up trash.
"The reaction to it reveals how we look at presidential candidates," Whiteley said. "I don't think we look at them as real people. The process ... prevents the general public from treating people authentically and seeing them as human beings."
Whiteley doesn't know whether what he witnessed in the homes, hotel rooms, buses, airplanes and other places the Romneys gathered would have effectively countered the image of a cold-hearted businessman and flip-flopping politician portrayed by Romney's Democratic as well as GOP opponents if his documentary had been released during the campaign.
"Knowing the political ramifications of the footage I have is way beyond my paygrade," he said. But, Whiteley noted that in the hundreds of hours of film he has of the candidate and his family he captured more of Romney's decency and humility than the public saw — even with the campaign's efforts to project a positive image of Mitt.
"The problem is every presidential campaign is pushing the story of what a great guy the candidate is, so the people go, 'Yeah right, we've heard that before,'" he said. "But in the case of Mitt Romney, that's actually true."
Fly on the wall
Whiteley said the documentary has no narration or background music and carries no message or moral.
"We don't answer a lot of questions," he said. "We just place you as a fly on the wall and you get a perspective of what it is like to be a presidential candidate that I think is unprecedented."
Whiteley hopes viewers will feel the same exhilaration he did documenting the emotional roller coaster of winning and losing primaries, accepting the GOP nomination, assessing debate performances and coming to terms with losing on election night 2012.
He recalls in particular the thrill he felt filming the Romney clan in the privacy of their hotel room on election night.
"How many people were wondering about what I am seeing with my own two eyes," he recalled thinking at that moment and throughout the editing process of the film. "I kept remembering how I felt on election night and how do I build to that moment. ... I want the audience to have that same feeling I did."
Twitter: @deseretbrown