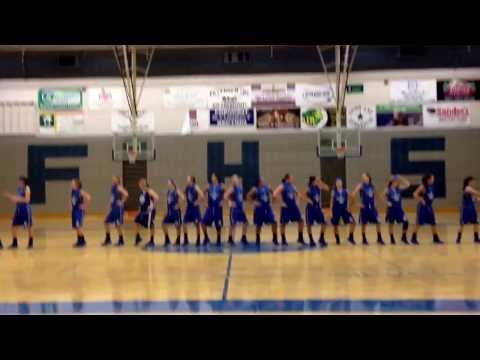 View 2 Items

I knew nothing about it until they performed it. My sister (Julie Malan) is a dance teacher and she and my other sister (Sher Elliott) apparently had been meeting with the team on the sly to learn the dance.

—Fremont coach Lisa Dalebout
Fremont's girls basketball team has been putting in extra practice time this season.
Without even letting coach Lisa Dalebout know, the second-ranked Silver Wolves, who are now 10-1 overall and 2-0 in region play, have been staying after practice and meeting away from campus to get some extra repetitions in.
It has not, however, been basketball skills the team has been working on.
Dalebout's players and two of her sisters recently surprised her with a seemingly impromptu flash mob in the middle of practice.
"I knew nothing about it until they performed it," Dalebout said of the flash mob, which has been posted on YouTube. "My sister (Julie Malan) is a dance teacher and she and my other sister (Sher Elliott) apparently had been meeting with the team on the sly to learn the dance."
Spearheaded by senior captains McKenzie Burrows and Amanda Wayment, the team mentioned its desire to put on a flash mob to Dalebout's sisters at a game prior to the holiday break. Elliott worked as a go-between and set up practices for the Silver Wolves while Malan created the choreography.
"My sisters would ask, 'Can we come run at your practice? It's smoggy out.' They do that, so it wasn't out of the ordinary," Dalebout said. "Apparently they were sticking around and practicing after I left."
On the day of the performance, Malan and Elliott were at practice "running" when Dalebout directed her players to a shooting drill and asked an assistant coach, as she often did, to put on music.
"All of the sudden my assistant coach changed the song and the girls were moving into a different drill, and I thought, 'Did I tell them to do that?'" Dalebout said. "I turned around and my sisters and assistants all had their cameras out filming."
The Silver Wolves danced to "Every Time We Touch" by Cascada and drew cheers from the Fremont drill team and coaching staff. The video has been replayed on the school news, and the team has been asked to perform the dance at an upcoming assembly.
"They are quite pleased with themselves," Dalebout said. "My sisters said they were really excited to learn the dance. They were respectful, serious, intense — they approached it like basketball players."
Dalebout's favorite part of the performance?
"Watching them, I thought, 'How cool is that?'" she said. "I have a team that wants to get together and continue to work without me — even if it is dancing."
Sarah Thomas earned a degree in Mathematics from the University of Utah and is currently pursuing an MBA at Westminster College. She has been covering sports for the Deseret News since 2008.