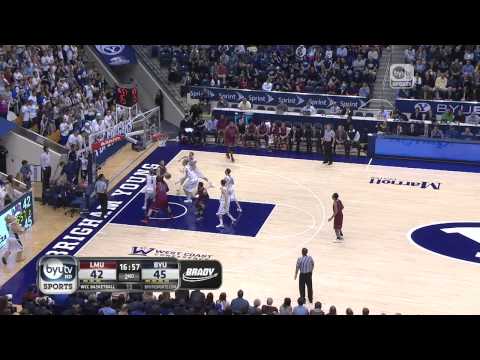 View 9 Items

All of our guys were ready to play, but Matt gave us a huge spark. He got us sharing the ball and playing the right way.

—Tyler Haws, on Matt Carlino
PROVO — BYU's 91-68 victory over Loyola Marymount Saturday may mean more than just a 'W' in the standings.
You got the feeling that Dave Rose's squad resolved a lot of confidence issues in this revenge match with the Lions in the Marriott Center.
Will that make the Cougrs a WCC challenger? Can't say. But it can't hurt to perform like they did in this one.
It was BYU's second-straight game without starting center Eric Mika, who injured his hip in a leaping bounce off the floor against San Diego a week ago.
It was also the third game in which junior Matt Carlino didn't start at point guard, for getting-out-of-his-slump sake.
In general, this Cougar team needed a shot of January adrenalin after starting WCC play 0-2.
It helped to be at home. On this night, things came together. And with the win, the Cougars are one game out of first place in the WCC.
The Lions, whose guards pretty much pistol-whipped the Cougars in Los Angeles two weeks earlier, led BYU by 10 with just less than 10 minutes to play in the first half. Again, the Cougars were seeking answers.
Carlino entered the game and immediately hit a 3-point shot.
That long-range bucket did something to teammates Tyler Haws and Kyle Collinsworth.
It turned them into Batman and Wolverine.
"All of our guys were ready to play, but Matt gave us a huge spark," said Haws. "He got us sharing the ball and playing the right way."
No kidding.
BYU went on a 13-0 run and got back in the game. Suddenly Rose's guys had swagger. And they began playing defense with marked intensity.
"I think that's us taking strides forward defensively," said Haws. "We're really putting an emphasis on that side of the floor and getting deflections, playing with energy. Sometimes teams lull us to sleep passing it around in our zone, but we kept active."
Carlino made two other buckets from distance on the night. He was the only BYU player to make a 3-pointer in the game. But it appeared to make the hard-hat in-the-trenches work by Haws and Collinsworth pay off.
Haws, Carlino and Collinsworth began getting steals. The Cougars battled to trail just 38-37 at halftime.
Early in the second half, Carlino again came off the bench and hit a big 3-ball, and Haws, who was struggling with his shot (2 of 9 for just seven points), immediately added a pair of buckets.
"I told Ty, 'I'm going to get you looks,'" said Carlino at the start of the second. The Cougars outscored LMU 54-30 from that point.
Haws ended the game with 31 points, scoring 24 in the second half when the Cougars needed production. Collinsworth, who almost had a triple-double on Thursday in a win over Pepperdine, added 20 points, nine rebounds and five assists. Twelve of his 20 points came with Haws' grouping in the second stanza.
Carlino? He eased his way to 18 points with four assists. While the official box score had him for two steals, by my count he should have had four. "Matt got a lot of deflections," said Haws.
This was not the same team that sleepwalked through its first WCC road trip. The fact that Mika did not play made it even more impressive. Seldom-used forward Josh Sharp started and led his team with six points in the opening minutes. He finished with 10 points and four boards.
"We just need to continue to get better," said Carlino. "The first half we came out with a lull and then we picked it up."
Skyler Halford, who averaged 23 points in his first two starts while Carlino came off the bench, was 0 for 5 from the field, but Carlino took care of that.
"I felt I've played well the past three games," said Carlino.
And Carlino admitted coming off the bench has taken some pressure off him. He called it "kind of nice."
Carlino said he is more focused and plays with a greater purpose in producing plays for teammates. And he vowed afterward that the Cougars will be a better road team than the one that lost four straight through the end of December and into WCC play.
Carlino said it's a matter of communicating, being a leader on the floor and "doing the same stuff."
And for this team, getting 18 points from Carlino, half of it from distance, on a night Mika sat, made all the chemistry difference in the world.
Dick Harmon, Deseret News sports columnist, can be found on Twitter as Harmonwrites and can be contacted at dharmon@desnews.com.