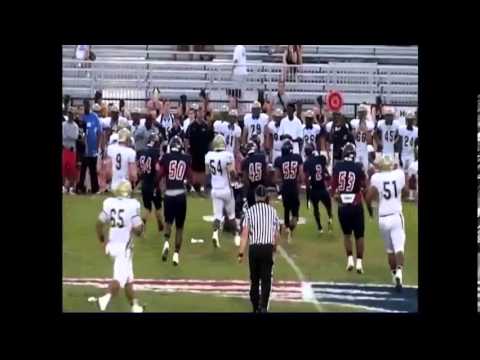 View 2 Items

I really loved the city there and the campus when I visited there. It was a lot different than I was expecting. I was expecting a real quiet place with not a lot to do, but it wasn't like that at all. Sure, it's a lot different than what I'm used to, but I loved it. It's a big reason why I chose Utah.

—Andre Godfrey
MIRAMAR, Fla. — Andre Godfrey didn't find exactly what he was looking for when visiting Utah in late October. That turned out to be a good thing.
The 5-foot-11, 187-pound safety prospect committed to Utah early Thursday morning after considering offers from as many as 18 programs, including UCLA, Wisconsin, Louisville and West Virginia. He ultimately chose the Utes due to relationships with the coaches, the opportunity for immediate playing time, and feeling comfortable with the campus and Salt Lake City community.
"I really loved the city there and the campus when I visited there. It was a lot different than I was expecting," Godfrey said. "I was expecting a real quiet place with not a lot to do, but it wasn't like that at all. Sure, it's a lot different than what I'm used to, but I loved it. It's a big reason why I chose Utah."
The Utes have a history of producing top safety talent — namely current San Diego Charger Eric Weddle, who was recently named as a Pro Bowl participant.
"I definitely know who Eric Weddle is and hopefully I can work to become a player like that," Godfrey says. "My goal is to go there and work as hard as possible to make an immediate impact."
Utah started recruiting Godfrey last spring and started to emerge among his other offers due, in large part, to the efforts of assistant coach Dennis Erickson. Erickson coached the Miami Hurricanes in the early 1990s and still carries a stellar reputation in the area.
"Coach Erickson is someone I trust and Utah has a lot of good coaching stability," Godfrey said. "I know the coaches are loyal to the program and will be there for the entire time I'm there. That's a big thing and it's something that separated them from the other schools."
The prospect of immediate playing time also played big in his decision.
"I looked at each program closely and Utah is the place where I think I can make an immediate contribution," he said. "I really love everything about the program and the opportunities I'll have there. I can't wait to get there and get going."
Email: bgurney@desnews.com
Twitter: @BrandonCGurney