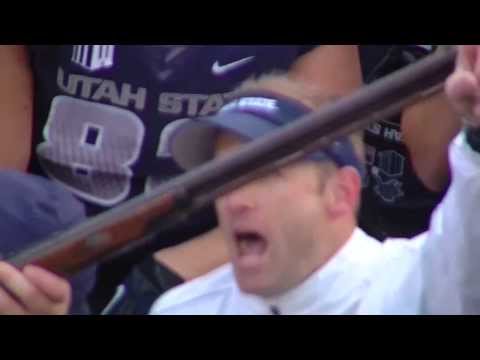 View 11 Items

Nobody could have guessed what adversity the Utah State football team would face this season, despite some of the obvious reasons for speculation.
Former USU coach Gary Andersen took half of his staff with him to Wisconsin, leaving Matt Wells to take over the program in his stead. Also, in a decidedly intriguing move, Wells brought in several coaching hires with no previous ties to Utah in Dave Ungerer and Todd Orlando.
That being said, Wells did inherit Andersen's deep, talented roster. Quarterback Chuckie Keeton was entering his junior year, and the defensive side of the ball especially had mature talent from the last couple of seasons, most notably linebackers Jake Doughty and Kyler Fackrell.
Most predicted a successful season was in the cards despite Andersen's absence. So how did the Aggies stack up when all was said and done? Pretty good actually.
The Aggies started off the season with a disappointing 30-26 loss at Utah. The contest featured multiple lead changes and nearly 1,000 yards of total offense. Though the loss hurt, Utah State played well and the game did serve up plenty of hope and promise moving forward.
The following two weeks, the Aggies responded with a resounding 52-20 victory over Air Force in Colorado Springs and 70-6 shellacking of Weber State at home. Keeton showed his passing prowess by throwing touchdown passes to multiple receivers and the defense played disciplined assignment football. Admittedly, though, both the Falcons and Wildcats had bad years. Both teams finished with double-digit losses.
The Aggies then tried to knock off a solid USC squad. Utah State battled hard from start to finish, but the Aggies never led and made several key mistakes in the 17-14 loss to the Trojans.
Despite an incredible second-half performance by the Aggie defense, the Utah State offense just never got going, including a missed field goal early on. Sadly, this opportunity against a BCS opponent would be filed under the "close, but not quite" category, an all too-familiar one for Utah State.
As much as the previous week's loss stung, the Aggies traveled to San Jose State the following week and registered a dominant 40-12 win over the Spartans. Heralded Spartan quarterback David Fales gained plenty of yards yet few points against the Utah State defense, which forced several fumbles and turnovers at key moments to keep the Spartans fully in check.
San Jose State didn't help itself either with extremely costly offensive pass interference calls. Keeton played terrific and scored several times on the ground and in the air. Utah State appeared to be back on track.
Then BYU came to town and changed everything. Keeton got gang-tackled midway through the first quarter and landed awkwardly on his knee, tearing his ACL. Back-up Craig Harrison came in to finish the game, but his efforts proved ineffective. BYU won, 31-14. Not only did the loss of Keeton totally deflate the team, it deflated the fan base.
A loss to Boise State the following week didn't help matters either. Harrison was unable to sustain many drives and Wells pulled Darell Garretson out of his redshirt year and put him in the game. Though Garretson initially looked shaky, he did engineer a solid drive at the end of the game to bring the final score to 34-23.
By this point, the team had seemingly hit rock bottom. The Aggies were sitting at 3-4 and no longer controlled their destiny for the Mountain West Conference title game. Wells needed to come up with a solution and do it fast with a game looming at New Mexico, and that's precisely what he did.
The Aggies stormed out to a big lead over the Lobos and never looked back. Joey DeMartino and Garretson looked excellent in the 45-10 victory. Then after a bye week, Utah State took care of business against the Hawaii Warriors in a 47-10 win. Freshman tight end Wyatt Houston emerged as a pass-catching threat, too, bolstering an already solid stable of receivers.
After a tempestuous, ugly victory over an improved UNLV team in Las Vegas, the Aggies shut out Colorado State and smashed Wyoming to close out the regular season as Mountain Division champions, thanks in big part to a Boise State loss to San Diego State.
Utah State's depth issues eventually were exposed against Derek Carr and Fresno State in the Mountain West Conference championship game. The depleted offense didn't score in the first half, so Doughty did it himself off a forced fumble. Though the Aggies outscored Fresno State in the second half, their first-half mistakes were too much to overcome in a 24-17 loss to the Bulldogs.
Heading into the Poinsettia Bowl with an 8-5 record, the Aggies received one last chance to win a game against a marquee opponent: a ranked Northern Illinois team led by quarterback Jordan Lynch.
The game appeared to be a toss-up with an elite Husky offense versus an elite Aggie defense. It marked the first time in school history Utah State has been to three bowl games in a row.
And the Aggies delivered in spades. Lynch had the chance to be the first player in NCAA history to rush and throw for 2,000 yards in the same season. He needed just 119 rushing yards to reach that unprecedented milestone. Utah State denied Lynch history by holding him to just 38 rushing yards on 18 carries and beat the No. 23 Huskies, 21-14, in San Diego.
So what's in store for next season?
The coaching carousel hasn't begun in earnest, so it's unknown which assistants will be back on staff next season. As far as the roster goes, Utah State is losing production from key seniors such as DeMartino, Travis Reynolds, Doughty, Connor Williams, Nevin Lawson and Travis Van Leeuwen, and all are very tough to replace. Most of the offensive line, including standout center Tyler Larsen, graduates as well.
However, most of the receivers, most notably Brandon Swindall and Ronald Butler, will be back next season. The defensive side of the ball has plenty of mature players such as Brian Suite, Frankie Sutera and BJ Larsen. The linebacking corps appears to be just as tough, too, so this bodes extremely well for the defensive side of the ball, even if Orlando, the defensive coordinator, ends up taking another job.
With Keeton back for his senior year, the Aggies can potentially get another shot at the MWC championship. Most of the games on the schedule are pretty winnable to boot, thanks in part to coaching shuffles at Wake Forest, Boise State and Arkansas State. A win over Boise would almost certainly clear the path to the title game.
The Aggies treaded new ground and reached many new milestones this season. As long as they don't get bit by the injury bug again, they can continue to build off of this season's hard lessons and successes and do something truly special for 2014.
Onward and upward, it's the best time to be an Aggie.
Sam McConkie is a technical and professional writing graduate from Utah State University. Email: [email protected]