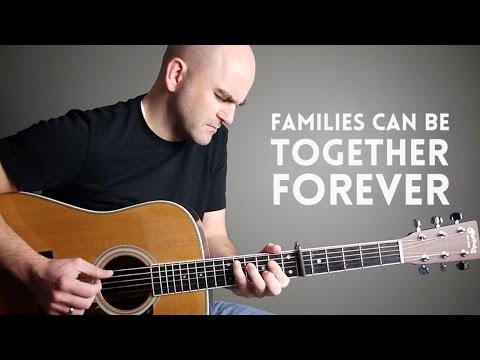 View 20 Items

She gave me a much better appreciation and love to my Heavenly Father for allowing Christ to suffer for my sins because it's not easy watching a child suffer. … I feel incredibly blessed and grateful.

—Ben Howington
Music has the ability to touch hearts, and for Ben Howington it has also been the best way to express his feelings. That's why this past Dec. 4, Howington posted a video to his website sharing his gratitude for his daughter's life.
Howington, a member of The Church of Jesus Christ of Latter-day Saints, runs a website titled Mormon Guitar at www.mormonguitar.com where he posts performances of his own arrangements of LDS hymns, as well as guitar tutorials. But his Dec. 4 production of "Families Can Be Together Forever" was different because it was created to honor of his daughter's five years in remission.
On Memorial Day weekend in 2008, while Howington and his wife, Annie, were visiting family in North Carolina, they took their 3½-month-old daughter, Lila, to the emergency room. Howington knew his daughter had something more than the flu after she had thrown up several times and her eyes were unable to focus.
The doctors immediately performed a CT scan and told Ben and Annie that Lila had a brain tumor.
"I remember being at Duke and just going to the bathroom and crying it out for a second because you felt like there was so much building up, and after that I came out and I felt better," Ben Howington said. "It felt like OK, we can do this."
The Howingtons relocated from New York to live with their family in North Carolina so Lila could be treated locally. Howington said it's where they knew they needed to be.
"It was so clear from the very beginning that the Lord had his hand in all of it and that this is where he wanted us to be for all of it, for her to be treated. She was treated at Duke, which is one of the best in the country, if not the world, for pediatric brain cancer and stem cell transplant," Howington said. "She got diagnosed here, and we just ended up staying."
But he said one of the greatest blessings was living close to family.
"I don't know how we would have done it if we were in New York. I honestly don't know how we would have done it. We already had our son, who was 3 at the time, and Lila, who was only 3½ months old," Howington said.
"At that time, my wife and I, the only time we saw each other was when we were handing each other the keys because she would be with (Lila) in the hospital every day, and then I would sleep there at night. But luckily we have family here, and so my mom would come, and she would spend the night every once in a while and give me a break, and I also had a sister who would come and give my wife a break. It was a huge blessing."
Although Ben and Annie Howington hardly saw each other, they were determined to keep their family close.
"At the beginning, when she first got diagnosed, my wife and I said to each other, 'Now this is something that's either going to tear us apart or bring us closer together,' and we just refused to let it tear us apart," Ben Howington said. "It really didn't. It brought us closer together as a family."
And Lila adapted well to her new lifestyle in the hospital.
"Getting shots, getting treatment, being in the hospital, that was her life so she was just such a trooper," Howington said. "She would throw up all over after going through chemo and then give you a huge smile. She was literally the happiest baby that I've ever known, even while she was bald as a cue ball."
After spending day after day with Lila in the hospital, the Howingtons learned that their daughter's positive outlook, even as a baby, was affecting those around her as well as those who only followed Lila's story through pictures online.
"The great thing about her is that she has been such a special spirit because she has touched so many people's lives," Ben Howington said. "It's amazing how somebody can bless so many people's lives without ever having met them."
Lila went through chemotherapy and a stem cell transplant before the age of 1, and although the tumor came back four months after it was removed and the process had to begin again, the cancer has not returned in five years.
"It just makes you so grateful for them. We feel blessed because it doesn't always have the same outcome for everyone, but that doesn't change the way we felt the Lord's hand in everything," Howington said.
"But we never felt like she was going to leave us, and I know that's because of the eternal nature of families because we're an eternal family."
The Howingtons' appreciation for eternal families and the Atonement of Jesus Christ grew throughout their experience with Lila.
"Nothing is more painful than watching your child suffer," Ben Howington said. "She gave me a much better appreciation and love to my Heavenly Father for allowing Christ to suffer for my sins because it's not easy watching a child suffer. … I feel incredibly blessed and grateful. I don't know how anyone can go through this without having the gospel in their lives, or something. Because nothing makes it more real, the plan of salvation we learn about it, but until it becomes real in your life, you don't truly understand the amount of gratitude that you have for the knowledge and also just for Heavenly Father."
Through it all, Howington has learned that no matter the hardships life has brought his family, by relying on the Lord he has been able to make it through.
"The Lord builds you up, and he blesses you, and he makes you stronger," Howington said. "I truly believe that everyone has it in them to deal with any trial that's coming because we learn in the scriptures that the Lord will never give us a trial bigger than we can handle."
Since Lila went into remission, she has had an MRI every six months to make sure the cancer has not returned. Howington said these days brought back memories of what had happened and what they hope will never return.
"In between those six months, you forget everything that she's gone through, and then on that date where she goes in for the MRI, it's hard to concentrate on anything," Howington said.
"And then this five-year mark hit. You know they'll never call her cured, but it's them saying, statistically speaking, the chances of it coming back are very slim. … We're just so blessed."
That's why as Lila's five-year mark approached, Ben Howington began to work on a secret video to express his gratitude. Because he didn't want it to be influenced by anyone else, he didn't even show Annie until it was complete.
But ever since Howington posted the video to YouTube and showed his family his version of "Families Can Be Together Forever," he has received an overwhelming response.
"I've had people contacting me who aren't LDS, but cancer has affected their lives, and they have felt touched by it, and I think it's a horrible disease, but what a blessing that it brings us all together," Howington said.
"I had one guy who commented on the first day and said it happened to be the four-month anniversary of his daughter who passed away from brain cancer, and he just stumbled upon my blog that morning and posted saying it's what he needed. I don't know how I could feel more honored and blessed and humbled."
Howington has continued to provide guitar tutorials on his website at www.mormonguitar.com in which his children pick a song from the LDS hymnbook for him to arrange each month.
"It's a lot of fun. I love the guitar. I love the hymns," Howington said. "I thought, there is so much crap out there on the Internet that I wanted to do something to try and offset that, and I thought what better way to do that than the hymns."