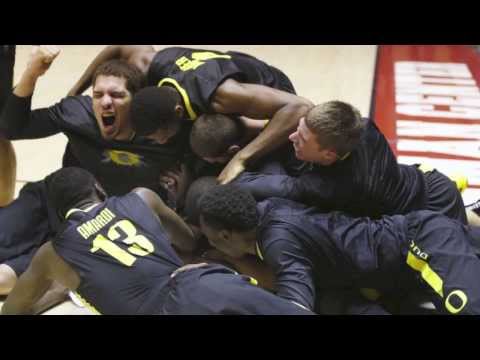 View 22 Items

SALT LAKE CITY — Utah coach Larry Krystkowiak didn't want to dwell on the last 6.5 seconds of Thursday night's Pac-12 opener when the Utes saw a possible upset victory over the No. 10 team in the country turn into an agonizing defeat.
But that's what everyone who saw the 70-68 overtime loss to Oregon will remember — how the Utes had the ball with 6.5 seconds remaining, lost the ball on a turnover, and watched the Ducks score the game winner with less than a second on the clock.
It was a second chance for the Utes, who had called timeout with 7.5 seconds left in regulation, only to see Jordan Loveridge's rushed last-second shot rim out. This time, after Dakarai Tucker inbounded the ball to Dallin Bachynski, Bachynski's pass to Loveridge was knocked away by Damyean Dotson, who went in for an uncontested dunk after Joseph Young tipped it ahead to him.
The Utes almost topped that amazing finish when the celebrating Ducks left Loveridge all alone at the other end. But again, his 3-pointer, which would have counted, bounded off the iron.
"A lot of focus is on the last play, but that's a breakdown we can fix really easily,'' said Krystkowiak. "It was a little mishap on a play that we've been running since we started practice. It's been one of our favorite pressure plays with five seconds to go. It's one of those classic killer plays that the last thing you want to do is give them an opportunity.''
Bachynski was upset about the turnover, but also gave credit to the Ducks for their defense.
"Of course there's regret making a mistake, me personally, but kudos to them for putting the pressure on us all game as well as the last seconds of the game,'' he said. "We did have a miscommunication on the play. I guess we just have to learn from it.''
Krystkowiak said the Utes had several options on the inbounds play and that the pass to Bachynski was "probably our fourth read'' for the inbounder.
"We knew Delon (Wright) was going to be guarded pretty intently on the side out of bounds and we had a play set up to potentially go back door out of that or go to Jordan and have him isolate,'' Krystowiak said.
Krystkowiak also defended the timing of the two final timeouts, both inside 10 seconds.
"It's exactly what I want,'' he said. "The idea is we're going to get the last shot and we don't risk a turnover with 13 seconds. It's ironic that it might have been thought we didn't have enough time and actually it ended up we had too much time.''
NO OFFENSE: The Utes came into the game ranked first in two-point shooting in the nation (63.6 percent) and third in overall field goal percentage (54.2 percent). But they had their worst shooting night of the season Thursday, making just 38.1 percent of their field goals. They were an abysmal 15.8 percent from 3-point range and just 1 of 11 in the second half.
"We played good enough defense to win, but needed a little more offense,'' said Krystkowiak.
3
comments on this story
GAME NOTES: The crowd of 13,428 was slightly less than the BYU game, but it was the most for the Utes in a Pac-12 game, topping last year's 11,712 for the Arizona game. ... Oregon came into the game as one of eight unbeaten teams in the country, while Utah was one of 13 one-loss teams. ... Utah had played unbeaten top-10 teams before this late in the season, losing to Wake Forest and Tim Duncan in 1996 and beating No. 1-ranked Alabama in 2002. ... The Utes had a season-high nine blocked shots, led by Wright with four. ... Utah had its worst assist-to-turnover ratio this season with 12 assists and 14 turnovers. ... Saturday's game with Oregon State, which lost to Colorado Thursday night, begins at 2 p.m.