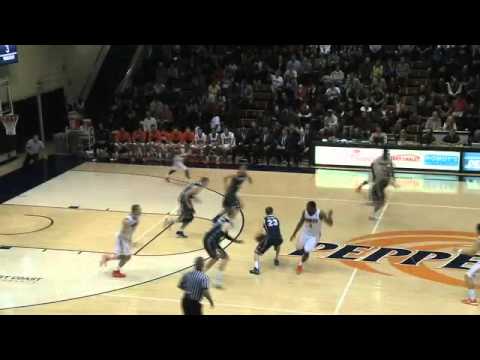 Our confidence is down. We need to get back to practice at home and turn it around and get ready for Saturday.

—BYU coach Dave Rose
MALIBU, Calif. — In Pepperdine's 80-74 win over BYU on Monday night, Waves players peppered BYU with enough long bombs that the Cougars were left wondering where they'd bought their guidance system.
It marked Pepperdine's first win over the Cougars in four tries. Pepperdine (9-5, 2-0) made a blistering 13 of 23 field goals from beyond the arc inside Firestone Fieldhouse as BYU dropped to 8-7 overall and 0-2 in WCC play.
"Our confidence is down," said BYU coach Dave Rose. "We need to get back to practice at home and turn it around and get ready for Saturday."
Rose said the Pepperdine loss mirrored the loss at Loyola Marymount. Both games featured BYU's opponent draining long-distance baskets.
Pepperdine's barrage amounted to the most 3-pointers allowed by BYU this season. Wave players were casting off from Zuma Beach and snapping the net from start to finish.
Tyler Haws, who scored 11 in a loss at Loyola Marymount Saturday, had 20 points. Kyle Collinsworth added 11 points and 13 rebounds with Skyler Halford adding 10 points.
Brooklyn native Malcolm Brooks scored 24 points on 6 of 9 treys to lead the Waves. Shooting gallery mate Amadi Udenyi made the first four he tried from distance, and that kind of firepower is exactly what has doomed BYU's zone defense all season.
It took BYU almost every second of the game to make a shot from beyond the arc. They finally made one when Anson Winder came off the bench and hit a 3 with 22 seconds to play and the Cougars trailing 79-71. If Winder hadn't have buried that shot, BYU would have broken a string of 560 straight games of completing at least one long ball.
Jimmer Fredette is a distant memory to this BYU team that tried 11 and made just one.
Haws and Halford both tried three times and drew blanks. Junior Matt Carlino, who has shown streaks of 3-point brilliance in his career, was 1 of 7 from the field, played just 19 minutes after starting and occupied the pine for most of the second half, yielding to Halford.
Just like Saturday at Loyola Marymount, the Cougars gave up the outside shot early and fell behind to Pepperdine 32-23 before succumbing 40-28 at the half.
"That's what we'd like to know," said Josh Sharp of the Cougars' failure to compete in the opening minutes of WCC road games. "We need to get home and have a good week of practice to figure out how to start the game right. The last two games we've spotting teams double-digit leads."
With both post players and rebounders Eric Mika and Nate Austin in foul trouble, BYU had to switch to a small lineup for most of the second half. Both fouled out in the closing minutes, with Mika earning a technical for protesting a call.
The Cougars got out of their zone and pressed Pepperdine in the final eight minutes, and that intensity produced BYU's best play of the night. The Cougars went on a 10-point run from the 8:21 mark to the 4:24 mark to cut Pepperdine's lead to 68-65.
But Brooks answered with a deep 3, and while the Cougars made the charge with Collinsworth, Haws, Halford and Austin producing field goals, the Cougars made just 3 of 8 from the free-throw line down the wire while Pepperdine went a perfect 6 of 6.
The Cougars outshot Pepperdine from the field, 49-40, but the Waves won the game from distance.
"We knew we had to play," said Sharp. "Our defensive intensity wasn't there in the first half of the game so we needed to play more physical and get on a roll."
Rose said in the second half, his squad played with more aggression defensively.
"We had more deflections and our hands on the ball and guys were more active. We have a lot of young guys who need to experience this to grow."
Rose added that the Cougars can build on the final 12 minutes of the loss — and learn something about themselves.
Rose said Carlino's play is based on his scoring — it is what defines him as a player.
"He's kind of down right now. He needs to stay with it. His defensive play is based on him not scoring like he wants."
In the meantime, Halford's energy on both ends of the court may be a kind of lifeline in the wake of Carlino's lack of productive minutes — all while opponents are drilling 3-pointer after 3-pointer against the Cougars.
BYU made just four 3-point buckets in its two opening WCC games, while their opponents combined to make 21, outscoring the Cougars 63-12 from distance.
That's as anti-Jimmer as a team can get.
Dick Harmon, Deseret News sports columnist, can be found on Twitter as Harmonwrites and can be contacted at dharmon@desnews.com.