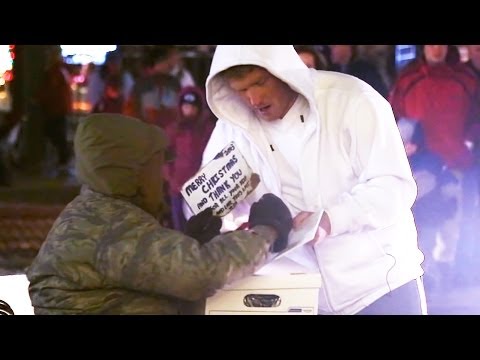 View 5 Items

Local YouTube star Stuart Edge got in the Christmas spirit by surprising several homeless people in downtown Salt Lake with a care package.
Edge was dressed in white and claimed to be delivering something from "the big guy upstairs" while trying to convince those he spoke with that he was a heavenly messenger.
The reactions from those Edge approached range from surprised to humbled to believing. Edge posted online, "My fave thing about this video, was when the people said a little prayer afterwards, when they thought no one was watching, but we were. That's what made this video worth it!"
Many who have watched the video expressed their gratitude for Edge and his willingness to help others and spread the excitement of giving.
"And this is why Stuart Edge is one of my favorite YouTubers," Daniel James wrote online. "In this video, he helps out the homeless in Salt Lake City as part of a friendly prank, and the reactions are priceless! We need more people like this guy."
At the end of the video Edge asked viewers to share what they have done to help be an 'angel' in someone else's life. One commenter named Kevin shared his own experience:
"THE most genuine thing I have seen in a long time. A couple years ago I was standing in a grocery store, when an elderly man was ahead of me in line. His order was a little over a hundred dollars but his card kept being declined. I paid for his order and ran them to his car. He cried and called me an angel, I replied, 'No sir I am not, but he is always watching over us.' "
Edge posted the video to YouTube on Christmas Day, and it has since received more than 500,000 views.
Email: spetersen@deseretnews.com