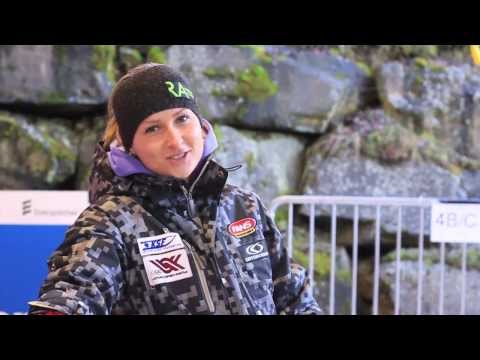 View 2 Items

We do a video every season with all the athletes but this year we decided to do a Christmas edition music video. It's always a fun thing to do because it brings the athletes together, and it always provides comic relief especially during all the Olympic trial stress.

—BYU student Kate Hansen, who's on the 2014 U.S. Olympic luge team
Trying to make the U.S. Olympic luge team can be stressful.
And that's exactly why two of the women who just made that team decided to spend their free time making a video that celebrates their sport and the season.
Making videos is nothing new to BYU's Kate Hansen, but this fall she decided it should be about Christmas. She convinced teammate Erin Hamlin to help her film U.S. athletes, as well as athletes and coaches from around the world to star in their lip-sync version of "All I want for Christmas is you" by Mariah Carey.
"We do a video every season with all the athletes but this year we decided to do a Christmas edition music video," Hansen said. "It's always a fun thing to do because it brings the athletes together, and it always provides comic relief especially during all the Olympic trial stress."
Hamlin said she felt the pressure of Hansen's past work, which is available on YouTube at katehansen92.
"Kate has been throwing these together for years — with just our team as well as international athletes, and most recently a bunch of different sports' athletes at the Lake Placid Olympic Training Center," Hamlin said. "I started helping with them last season and it's been fun. Honestly it does get a bit stressful because everyone is now expecting them and looking for them."
The song choice was easy for the pair.
"Mariah Carey is a goddess, and I grew up driving my brothers crazy by singing along with her songs," Hamlin said. "So when I had the idea to do a Christmas video, there was no question. It's such a classic!"
Both women said the toughest aspect of the project is finding time to film athletes singing along — and maybe offering a few dance moves.
"The toughest part aside from editing (which Kate does) is filming everybody," Hamlin said. "It's hard with a million different schedules."
They made it work and gave credit to the competitors who played — or sang — along.
"But it's fun and people are generally excited to do it," Hansen said. "Erin and I make a pretty good team. I edit and she helps film and usually athletes are hesitant to be a part of it but who could say no to us?"
Hansen and Hamlin are hoping the video brings some joy to those who watch, but Hamlin also hopes it might land them on television, as well.
"We really just want to get on 'The Ellen Show'," Hamlin said.
Twitter: adonsports
Email: adonaldson@deseretnews.com