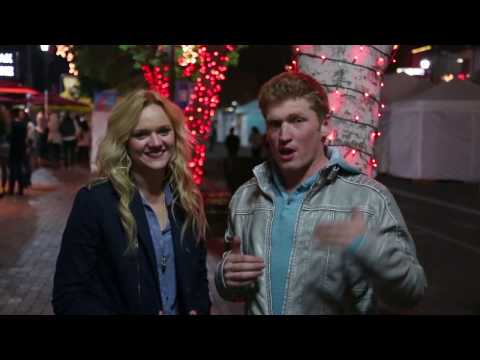 View 6 Items



Stuart Edge is at it again. Last year, the Utah County filmmaker made it big with his first viral video "Mistletoe kissing prank" that was filmed at BYU and now has more than 24 million views.
Since then, Edge's YouTube channel has quickly grown, and throughout the year he has created many other prank videos. But as Christmas time rolled around this year, Edge went back to his original antics and filmed "Snowing mistletoe kissing prank" at Arizona State University.
The setup allowed Edge to ask a passerby if he or she would ever kiss in the snow. Once receiving an answer, Edge cued fake snow to appear, along with mistletoe.
Comment on this story
Edge also collaborated with fellow Utah County YouTube star Andrew Hale and his YouTube channel, LAHWF, to film his video "Awkward Christmas caroling" in downtown Salt Lake. In this video, both Hale and Edge approach people by attempting to sing a familiar Christmas carol. Many listen and try to help them remember the correct words. At the end, each person involved is given a Christmas present for his or her participation.
This year other YouTube channels have also picked up on the mistletoe idea. BYU's sketch comedy group "Studio C" produced its own Christmas special with mistletoe, this time Harry Potter style. All four stars of "Studio C" were involved. Matt Messe stars as Potter trying to land a kiss under the mistletoe with Cho Chang. Full episodes of "Studio C" can be seen on BYUtv.
Email: spetersen@deseretnews.com