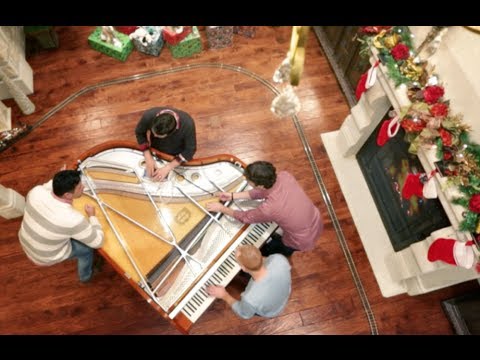 View 13 Items



This year, three large YouTube channels originally based in Utah came out with special Christmas renditions that have touched the hearts of many viewers, bringing to mind the true meaning of Christmas.
For the past two years it has been a tradition for The Piano Guys to post a Christmas themed video. In December 2011, the group posted a cello production of "Carol of the Bells" and a soloist in Jon Schmidt's rendition of "Where Are You Christmas" featuring his daughter, Sarah Schmidt.
In December 2012, the group produced its version of "Oh Come Emmanuel," which was performed by cellist Steven Sharp Nelson and pianist Jon Schmidt. The video was also filmed on the same set as the LDS Bible videos. A version of "We Three Kings" was also uploaded by the piano and cello duo.
This year, The Piano Guys released a fun-spirited version of "Angels We Have Heard on High" in which many members of The Piano Guys' team are shown. In this video, many different sounds are made by using the piano in unique ways. In the description of the video, The Piano Guys expressed their thought process in creating this Christmas production.
"We wanted this to be a fun music video full of 'Christmas Spirit.' While the video primarily presents the 'fun' side of Christmas, we wanted the music to portray what, to us, is the true meaning of the holiday season."
Many viewers have commented and expressed their same enthusiasm for the video and gratitude for the Christmas spirit shared.
Drew Chung wrote: "It's all about Christ in Christmas. These guys are just vessels blessed by our Lord. Let's not forget what this holiday is all about … the risen one."
Lindsey Stirling has released a Christmas video this year, as it has also been a tradition on her ever-growing channel to create her own special holiday video. Two years ago, Stirling performed "Silent Night" while on Temple Square in Salt Lake.
This year, Stirling performed "Oh Come, Emmanuel" featuring Kuha'o, a blind and self-taught pianist. The music was arranged by Stirling and producer Stephen Anderson.
In the video, Stirling takes on a somewhat new role, as she provides the vocals along with her violin contribution. Text written by Stirling's father, Stephen J Stirling, is shown consistently throughout the video, sharing the message of hope and encouragement.
Stirling's music reaches a large audience, and her latest Christmas video has received thousands of comments. One commenter expressed appreciation for the special message.
"Although I'm not religious in the slightest, I still really enjoyed this. Both of you did a great job," Sara Saturday wrote online.
BYU's Vocal Point also published its own a cappella version of "O Come, Emmanuel."
The group posted a comment on its video, describing the pleasure it was to perform this cherished Christmas song.
"We love the message of the song "O Come, Emmanuel" and the hope that Christ brings into our lives," the post states. "Please enjoy our version of the song this holiday season!"
Many of Vocal Point's viewers were also appreciative of the sacred performance that has help many remember Christ this season.
Bryce Romney commented on the video: "I'm so grateful to be able to share through music the powerful message of hope through Christ."
Email: spetersen@deseretnews.com