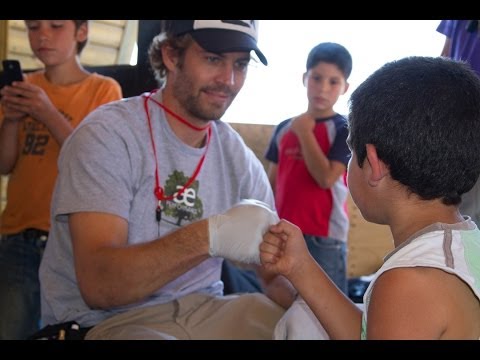 View 4 Items

Following actor Paul Walker's death on Nov. 30, many details about his off-screen life emerged. His relationship with his 15-year-old daughter, Meadow, was publicized through a status update on Meadow's Facebook page about the love between father and daughter. His association with The Church of Jesus Christ of Latter-day Saints as a child in Glendale, Calif., was highlighted in online articles. His kindness was captured in reports that he purchased a wedding ring for a U.S. soldier who could not afford the item for his fiancée.
Walker's work with his nonprofit charity organization, Reach Out Worldwide, was also mentioned by the media, but this week his passion for service began making social media rounds in a more personal format.
On Dec. 16, ROWW posted a video to its YouTube channel titled "Fulfilling the unmet need in 2010-2013." In less than three minutes, the video — which is set to the song "Kings and Queens" by 30 Seconds to Mars — captures Walker in scenes his fans didn't see on the big screen. With the help of skilled volunteers, Walker personally reached out to individuals affected by disasters in the 2010 Chile earthquake; the 2010 Haiti earthquake; the 2010 tsunami in Indonesia; and the 2011 Tuscaloosa, Ala., tornado.
The video highlights the organization's effort to provide medical aid and clean water to the affected areas, interspersed with statements from Walker, including a poignant reflection.
"I've looked fathers in the eyes, you know, that are holding their kids, and they're begging for help, and I can imagine how that feels. They're desperate, and they're looking to a stranger and pleading for help, and it's hard to talk about," Walker says in the video, wiping his eyes. "It's stuff like that, that just gets you."
Reactions to the video, which had more than 1 million views as of Friday afternoon, include expressions of admiration for Walker and disappointment about just now seeing this coverage.
"Much more people should have known about this much earlier," commented StrikeAgainstMusic. "I always liked him, but I never knew he would do such outstanding things for the poor and helpless."
An article titled "The problem with celebrity reporting? Amazing actions like these go unnoticed," which was posted to Mamamia.com.au, echoed a similar sentiment.
"In the wake of the tragic death of actor Paul Walker, this is the kind of thing we should be watching. Not footage of his car crashing, not video of his girlfriend crying," the article noted.
Walker founded ROWW in 2010 after seeing the disparity between the suffering and the help available after the Haiti earthquake in January 2010, according to the official ROWW website.
Deona Hooper of Social Work Helper reported another little-known insight into Walker's off-screen activities.
"Many people may be unaware that Paul was in the process of getting his First Responder Certification in order to be more field ready with the medical professionals on his disaster relief teams," Hooper reported.
In addition to the areas featured in the video, ROWW has also participated in relief efforts in Illinois, Colorado, Oklahoma City and the Philippines, according to ROWW.org.
According to a statement below the YouTube video, Walker believed that "when you put good will out there, it's amazing what can be accomplished."
Emily Eyring is an editor and product manager for DeseretNews.com.