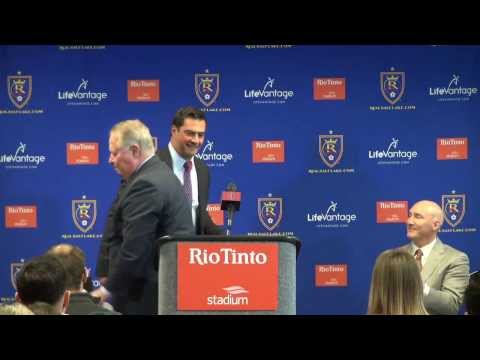 View 11 Items

SANDY — Despite modest expectations in 2013, Real Salt Lake advanced to two finals and competed for the MLS Supporters' Shield until the final weekend of the regular season.
With the majority of the squad returning in 2014, replacing departing coach Jason Kreis with his assistant Jeff Cassar was a collective no-brainer for RSL's front office.
"He is RSL through and through," said RSL owner Dell Loy Hansen at Cassar's introductory press conference Thursday at Rio Tinto Stadium.
"Every training session, strategy and game for the last seven years has had Jeff's mark on it. He was loyal to Jason in preparing every year to reach this moment. Preparation has met opportunity, and that opportunity is today for Jeff to lead this team."
Signing Cassar, 39, was Hansen's first big hire as Real Salt Lake owner, and he believes the seven-year assistant has an unbridled desire to win.
Cassar takes over for Kreis, who departed for the New York City FC head coaching job. The former assistant becomes RSL's third coach heading into the club's 10th anniversary season. An 11-year MLS veteran at goalkeeper, Cassar said he's ready to hit the ground running and wants nothing more than to shed the franchise's runner-up label.
"I'm going to take charge. I'm going to have an unbelievable group of men behind me, and we're going to push on," said Cassar. "I believe in these guys. I believe in the core group of players we have, the leadership, the character. It's unbelievable. I believe in the young talent we have on the team. The future is very bright for RSL."
RSL president Bill Manning said three things in particular pushed Cassar past the other finalist for the job, Robin Fraser.
First was Hansen's 100 percent belief in Cassar's vision for the post-Kreis era. Second was Cassar's insistence that hiring outside the current cohesive locker room was a mistake. And third was Cassar's relationship with general manager Garth Lagerwey.
The two were teammates back in the late '90s with both the Miami Fusion and Dallas Burn, and their working relationship with RSL since the fall of 2007 has been superb.
"We've been working together every day for six years, and that's as easy a transition on the management side (as) you could possibly have," said Lagerwey.
Lagerwey believes Cassar's intimate involvement with RSL's reserve team and academy the past several years will pay big dividends as the club continues to lean on younger players as its core ages.
As for the product on the field in 2014, Cassar doesn't expect it to look all that different.
"I like the soccer that we play currently — high-tempo, high possessions, offensive," said Cassar. "We'll tweak things a little bit here and there. Jason and I didn't see eye to eye all the time, and that's why I was a good assistant to him 'cause I would voice my opinion to him."
Despite a background that seemingly lends itself to being a defensive-minded coach, Cassar actually believes the opposite is true.
"Being a goalkeeper you think defensively cause you're a defensive player, but you're actually dealing with offense the whole game. So I've always considered myself very offensive-minded but mindful of the defense," said Cassar, who was RSL's top assistant to Kreis beginning in 2011.
1
comment on this story
On the day of his hire, Cassar also announced that former RSL player and current head scout Andy Williams will join the coaching staff. Cassar expects to hire three more assistants as soon as possible, which includes a goalkeeper coach as Cassar will no longer be running that portion of training each day.
Cassar said the younger players will benefit tremendously from Williams' soft-spoken nature and experience, while the veterans should have nothing but respect for a player who spent more than a decade in MLS.
Once he rounds out his coaching staff, Cassar believes the pieces are in place for a banner year.
"I honestly felt I was the right person for this job for many reasons. I know the players; I know the system; but I know what this team is capable of," he said.