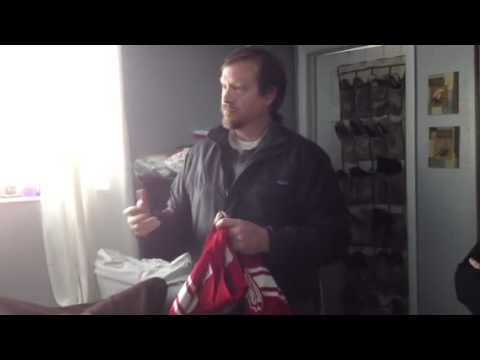 View 15 Items

I think McBride made them unique. ...He's a father figure. He brought them together and taught them to teach each other like brothers, not like teammates. He taught them to look out for each other, to lift each other up, to help each other learn, and they just stayed that way.

—Marnie Oliver, Miller's ex-wife
WEST JORDAN — Bronzell Miller cradles his aching ribs, speaks haltingly, but smiles often as he tries to articulate what made the 1994 Utah football team so unique.
It is that team that made the University of Utah's program relevant — locally and nationally.
It's that team that gave him countless opportunities, including a year in the NFL and seven years in the Canadian Football League.
And it's also the team that is now rallying around the 42-year-old father of nine as he slowly succumbs to the cancer he's battled with endless optimism for the last three and a half years.
While the team's talent may have earned it a place of significance in Utah football history, it's the bond between the players who earned that 10-2 record that has endured far from the football field.
"It was different," Miller said of the 1994 season. "Our team didn't fight each other. We had the same purpose; we had the same desire to do what the coaches told us. … We just had a team full of leaders."
His ex-wife Marnie Oliver, who convinced Miller to return to Utah and her care for the final weeks of his life, believes the team was special because of how then-head coach Ron McBride approached the game.
"I think McBride made them unique," said the mother of Miller's three oldest children. "He's a father figure. He brought them together and taught them to teach each other like brothers, not like teammates. He taught them to look out for each other, to lift each other up, to help each other learn, and they just stayed that way." McBride's philosophy may have helped them find success on the football field, but it also gave them relationships that have enhanced their lives. Their friendship has become a safety net as they continue to watch over each other — even from afar.
"Every year they have a reunion, and I always go," Oliver said. "They've all just kept in contact, and I see a lot of them locally. … They have this weird kind of brotherhood; it's almost like a fraternity without being in a fraternity. I've seen it with other things in the past. If someone is down on their luck, or they have a sick child, or something happens to one of them, everybody else just steps up to help."
And Miller's family is now wrapping themselves in the affection of that football family, which has grown to include fans, hoping to insulate themselves, even just a little, from the heartbreak of watching multiple myeloma steal the man they always saw as invincible.
Roneathe Lee cannot look at her big brother without tears.
"He is a caring brother," she said, almost in a whisper, "a good brother."
Then he makes her laugh.
"He was always the flamboyant one," she said. "He's our entrepreneur. He'll say it, and then he'll do it. He will get his big goals accomplished."
None of those who love him are surprised at the outpouring of love — or that he didn't ask for help until it was almost too late.
"He is very strong," Oliver said. "He always overcomes things. He was making less of this situation for years, which is typical."
Miller's charm is evident, even as he struggles just to wet his lips or catch his breath. The man who once ran 40 yards in 4.5 seconds now musters Herculean effort just to eat a few bites of a small, crustless sandwich. But he is as captivating as he ever was — trading barbs and telling stories until the exhaustion overwhelms him.
"One of the coolest things about this man is that he is by far one of the most charismatic people you'll ever meet," said his best friend since high school Jay Wolf. "He can walk in a room, not know anyone, and when he leaves, everyone is his best friend."
The two met at Federal Way High School near Seattle when Wolf's sister convinced Miller to beat up her brother. Miller befriended Wolf instead, and the two were inseparable after that.
"That's my brother," he said, smiling at Miller, who is taking jabs at him as he tells the story of their friendship.
Miller wanted to come to Utah out of high school because his older brother, Ed Miller, was playing for the Utes. Because he didn't qualify academically, McBride encouraged Miller to play at Eastern Arizona and earn his associate degree.
After playing both receiver and linebacker at the junior college, he accepted a scholarship to play at Utah in 1992. That's the year he also met Oliver, whom he married the following summer — July 6, 1993. He redshirted his first season at Utah, followed by a successful two years on Utah's defensive line.
He and defensive tackle Luther Ellis, who was drafted in the first round by Detroit the same year Miller was drafted in the seventh round, were key members of a defense that was ranked No. 1 for a few weeks in 1994. The offense was led by current San Diego Chargers head coach Mike McCoy, and the season saw them finish ranked eighth in the coaches poll.
It was during the 1994 season that Utah beat BYU for the second straight year with the now famous 34-31 score, and it became the foundation of a new era for Utah football that eventually led to the formation of the Mountain West Conference and an invitation to the Pac-12 three years ago.
"It was a special season," Miller said.
So special, in fact, that when Farmington resident and U. of U. grad Joel Reeder saw Miller's 1994 jersey for sale at a "property redistribution" sale 17 years ago, he bought it. He paid just $4 for it and the jersey, which still bears the tape marks on the white numbers where Miller rolled it up just as his fellow linemen did that season.
Thursday afternoon, he made the trip to Oliver's West Jordan home to give Miller the jersey.
"I've never seen jerseys for sale there again," he said. "I just looked for my favorite players. I knew Bronzell led the WAC in sacks that year."
Miller's and Oliver's youngest son, Elijah, 16, slips the jersey over his head and admires how well it fits his 6-foot-4 frame as his father watches with a smile. Oliver thanks Reeder, who simply said that after reading about Miller's battle with cancer, he thought the family should have the jersey from that special season.
He isn't the only visitor to come bearing gifts. Every day is filled with visits from former teammates, coaches and friends. They bring memorabilia that Miller's children will treasure, as well as gear and gifts from the current team.
Every item prompts stories and smiles from Miller.
They talk about the games they played, the evolution of the program, their good times, their heartbreak. The one thing the old friends don't discuss is death.
Miller is alternately accepting and in denial about the cancer that is ravaging his once healthy body.
This all started went Miller to the hospital on July 3, 2010, with what he thought were kidney stones. Instead, doctors told him he had lesions on his spine and would need chemotherapy.
The disease went into remission briefly, but came back with a vengeance in December 2011. Since his diagnosis, Miller has tried just about anything he can to fight the disease. In addition to chemotherapy, he's had bone marrow transplants and stem cell treatments, and he's also participated in several medical studies at the Froedtart Medical College in Wisconsin where he lived from 2000 until Thanksgiving weekend of this year.
Oliver knew Miller must be struggling with the disease, but Miller downplayed just how dire the situation was until the couple's oldest son, Bronzell Jr., decided to visit his dad for Thanksgiving a couple of weeks ago.
Oliver told her son to track down Miller's doctor and then put her on the phone with him. Once the doctor called Oliver back, he told her that Miller only had a few weeks to live and had to be in hospice care — either in Wisconsin or Utah.
"We didn't know he was this sick," Oliver said. After which, the jokes begin about Miller downplaying his cancer, suggesting it was simply a tenacious cold.
Oliver talked with her children and then offered to care for him in the home she shares with their children, now 20, 18 and 16. Miller gratefully accepted. The couple has been divorced since 1999, but they've remained friends.
The same cannot be said of Miller's second wife, with whom he has five children. They divorced in 2010, in part, Miller said because of the stress generated by the disease. He has five children with his second wife, all of whom remain in Wisconsin.
When Oliver agreed to help care for Miller, she set up an account to help pay for his end-of-life care and funeral expenses, as he doesn't have life insurance. The website at www.youcaring.com has raised more than $8,000 so far.
Oliver said she's been moved by the number of people who've donated, but also by the fans who've offered gifts like Reeder's jersey.
"I don't know who they are," she said. "But it's so nice. We're so grateful."
On Friday, he was invited by Utah head coach Kyle Whittingham to tour the new football facility. He and Oliver took the tour with McBride, who has visited Miller almost daily.
Wolf said the situation "has been a mix of emotions."
"It's been a true roller coaster ride," he said. "He can be the most bright, talking normal guy and then the next moment it's a totally different story."
Oliver and Miller will host an open house on Saturday, Dec. 14, at 1 p.m. at the family's home in West Jordan (3232 W. Charing Cross Road). Their hope is to give more friends the chance to see that 1,000-watt smile one more time. Because no one knows how much time is left, Oliver hasn't stopped to consider how she feels about the sudden turmoil consuming her life.
"I don't even know how to express how I feel," Oliver said. "I'm just trying to make sure that he's OK, that he's surrounded by people who love him and that he has whatever he needs. The outpouring of support has been amazing."
Twitter: adonsports
Email: [email protected]