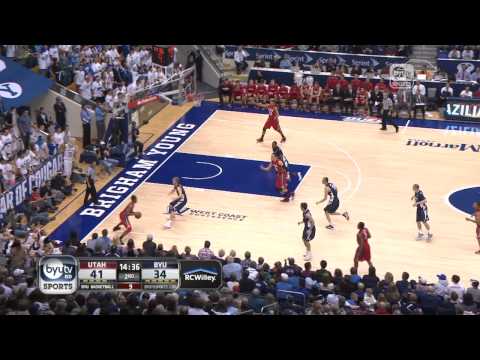 View 4 Items

Every game is a memorable game. The difference in the last couple of years is, you're only going to get them one time. They're only going to get us one time. These games stand alone. The Utah game stands alone

—Dave Rose, BYU coach
SALT LAKE CITY — Given the relatively recent changes in conference affiliation for both BYU and Utah, the dynamics of the basketball rivalry between the two schools have changed.
The Cougars (West Coast Conference) and Utes (Pac-12 Conference) meet just once a year, instead of twice. There are no league championship implications hanging in the balance.
Plus, it's only December.
But when it comes to the game itself, not much has changed.
"I think the rivalry is pretty much like it's been since I've been here. I've been here for 17 years, and it's gone back and forth, back and forth," said BYU coach Dave Rose. "Every game is a memorable game. The difference in the last couple of years is, you're only going to get them one time. They're only going to get us one time. These games stand alone. … The Utah game stands alone. Everyone will ask, 'What happened in 2014? What happened in 2010?' That's the feel now, that you've got one shot, and you've got to play your best."
Rose is looking forward to the BYU-Utah series continuing for many years to come. "I'm excited about that," he said.
Junior guard Tyler Haws knows what it's like to play at the hostile Huntsman Center.
"We kind of know what we're walking into," he said. "It's always kind of a crazy environment to play in, but that's what makes this game fun. They have a great team this year. We're going to have to be ready to play."
BYU (8-3) has owned the rivalry in recent years, having won 11 of the last 12 games against Utah, including seven in a row.
But the Cougars haven't forgotten last year's dramatic 61-58 victory over the Utes at the Marriott Center, as BYU rallied from a 12-point first-half deficit. Utah had a few chances to force overtime, including a 3-point attempt that just missed at the buzzer.
"I remember we were behind most of the time," Rose said. "They came in and took control of the game and we were playing from behind. The last few minutes of the game, we had guys make some big shots. They were game-changers."
"It was a tough, hard-fought game. They don't go away," Haws recalled. "We're going to have to put 40 minutes together and play the right way to beat them."
The Utes (8-1) are one of the nation's top shooting teams, and will test BYU's defense, which has struggled at times this season.
Guard Kyle Collinsworth said one of the keys against Utah is to "stop penetration. They're (shooting) 67 percent from (two-point territory). We have to keep guys in front of us."
"They're a great team and they have a lot of confidence going into this game," said Cougar forward Nate Austin. "They have great players up there. It will be a battle. It will be a fun one on Saturday."
"It means a lot to us," guard Matt Carlino said of the rivalry. "They were down there for a little bit, but they have a good team this year. We expect a good game from them."
GOGGLES GONE: BYU freshman Eric Mika, who has been sporting goggles as a precautionary measure the past six games, said he's ditching the protective eyewear starting Saturday night.
Mika suffered a right eye abrasion in the final minutes of a Nov. 20 loss to Iowa State and starting wearing goggles on Nov. 25 in a game against Texas.
MUCH-IMPROVED: The Utes are a much better team since the last meeting with BYU one year ago, the Cougars say.
"They seem to have a lot more balance, consistently scoring the ball really well," Rose said. "(Guard Delon) Wright has really given them a lift. (Brandon) Taylor and (Jordan) Loveridge are two guys that are way better after a year. They're sophomores and they play with so much more confidence. They've got a good bench; they play well together; and they play hard. They're a well-coached team."