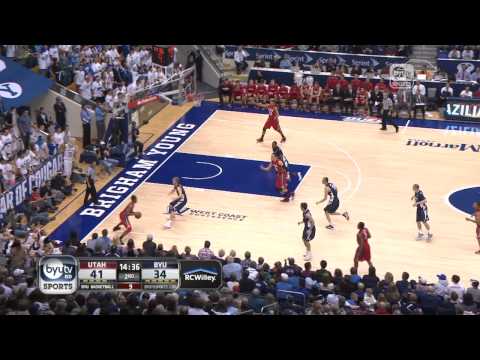 View 3 Items

Of course it's a rivalry. There's some much history behind Utah and BYU. Everyone knows. It's a big game.

—Utah sophomore guard Brandon Taylor
SALT LAKE CITY — It's been awhile, a long while, since the Utah Utes have beaten the BYU Cougars in men's basketball. They've lost seven straight games in the rivalry — a skid that dates back to a 94-88 overtime win in the Huntsman Center on Jan. 27, 2009.
Since then, BYU has prevailed in Salt Lake City three times — winning by an average margin of 21.3 points. The first three games in Provo were all decided by double-digits as well, 13 points each time to be exact.
Then came a breakthrough of sorts. Last year's game in the Marriott Center proved to be a close one. The Cougars claimed a 61-58 victory, but not before overcoming a 12-point deficit and holding the Utes without a field goal for the final 7:05.
Now comes the follow-up to that meeting. BYU (8-3) takes on Utah (8-1) Saturday night at 8 in the Huntsman Center.
Has the rivalry, which the Cougars lead by a 129-125 margin, been renewed in terms of competitiveness? Or is it starting to sway in the Utes' direction?
When asked about the latter, Utah coach Larry Krystkowiak said they were just excited to be in a position where the program is a little more established and getting some of the foundation in place — feeling better about some of their opportunities and some of their wins.
As for playing BYU, Krystkowiak said he loves the rivalry and considers it one of the nation's classic match-ups.
His players agree, despite the lopsidedness of recent years.
"Of course it's a rivalry. There's so much history behind Utah and BYU," said sophomore guard Brandon Taylor. "Everyone knows it's a big game."
The Utes, he added, are trying not to overthink it. Like every other game, they've developed a game plan and are determined to execute it.
An obvious challenge this time around is BYU's high-powered offense. The Cougars are averaging 90.8 points per game.
Krystkowiak, however, said the Utes aren't going in with the intention of slowing it down. After all, they average 86.1 points themselves.
"You can try all you want to control the pace but we've got to take care of the basketball and get good shots. Hopefully, the majority of our shots are going in and then that is going to help us with some of the pace," Krystkowiak said." But they play up-tempo, I think we've shown the ability to do the same thing, but they're a great offensive rebounding team so before we can be thinking about pushing the tempo we've got to make sure we're securing some defensive rebounds."
Krystkowiak noted that there are plenty of variables.
"It's a classic game where a lot of different elements tie in — one thing leading to another — but we're excited for it," he said before acknowledging that a fast tempo will likely be on. "But rather than thinking about controlling the pace, we're going to try to control some of the things that we know we can control for sure."
Even so, Utah junior guard Delon Wright is looking forward to things moving quickly.
"I like it fast-paced. I don't like it when teams slow it down," he said. "So I think it'll be fun to play against a team that likes to push it too. That will bring us up to tempo also."
Emotions, as usual, are also expected to be running high.
"It's a different type of game," said sophomore forward Jordan Loveridge. "Everyone's just playing for bragging rights. It feels just kind of like a playoff game. So it's fun."
Newcomers to the rivalry, like Wright, already know what to expect.
"I'm excited. I've heard about it from like fans and stuff," he said. "I know how big it is to Utah fans to finally get a win against BYU."
Email: [email protected]
Twitter: @DirkFacer