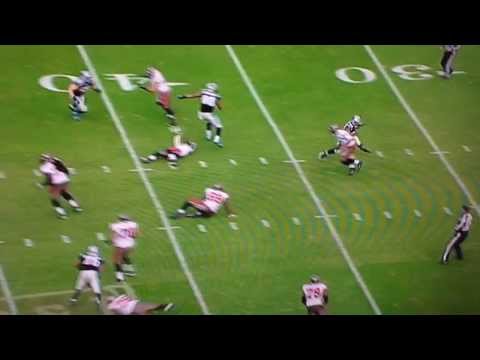 View 4 Items

Star Lotulelei's will, drive and attitude have gotten him this far in life and he's showing he's not about to lose any of those qualities as an emerging NFL player.
Carolina has the second-best overall defense in the NFL and, prior to this week's 31-13 loss to New Orleans in which the Panthers' usually stifling defense allowed the Saints 30-plus points, the team strung together eight straight wins. During that streak an opponent never scored over 16 points on the Panthers.
Despite the recent loss and overall underperformance by the entire team, the Panthers are gaining recognition across the league. Carolina propelled itself to an outstanding 9-4 record, the first winning record for the Panthers in several years, and Lotulelei has played a huge part in the turnaround. Although he is not yet the regular starter, he makes his time on the field count and is establishing himself a long future as an NFL tackle.
The former Utah football standout's defensive efforts don't go unnoticed by his coaches, teammates or fans, although, he'll never give himself the credit.
According to ESPN.com writer David Newton, during a film session last week the Panthers showed a highlight of Lotulelei bulldozing Tampa Bay tackle Demar Dotson. The play rushed Buccaneers quarterback Mike Glennon into throwing an interception and made Dotson look like a kid getting pushed around on a playground.
But here is what the rookie had to say about it.
"To be honest with you, I really don't like looking at that play because I didn't finish it," Lotulelei told Newton. "I actually missed a sack and it was disappointing for me to watch that play."
Talk about a guy that's hard on himself, but that's exactly how he rose to stardom at Utah and gained national respect as a candidate for Defensive Rookie of the Year.
Lotulelei is the best in the league at defending the run, and that's not just by rookie standards. According to Pro Football Focus, he successfully stops the run on 13.5 percent of run defense snaps. Thus far, Lotulelei has recorded 36 combined tackles, 28 of them solo. He also has two sacks and seven tackles for loss.
2
comments on this story
Although he's registered countless successes thus far and continues to surprise people on a daily basis, Lotulelei takes humility to a new level. When his teammates oohed and awed over the ferocious quarterback rush replay, Lotulelei accepted high-fives but quickly dismissed the attention. He said he was disappointed in the play because he could have done better, he could have sacked the quarterback.
That hunger to succeed, to raise his level of play each week might just end up making Lotulelei a name in the NFL.
Whitney O'Bannon is a new media sports writer for the Deseret News. Follow on Twitter at @whitney_oban.