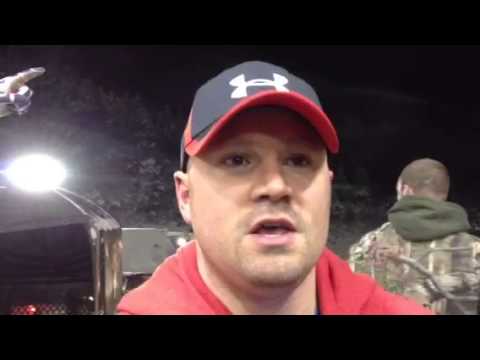 View 14 Items




It started snowing and it didn't help our times, but we stayed focused and did what we do best — pushed as hard as we could; I drove as best I could; and we ended up in first place overall.

—Steve Holcomb
PARK CITY — Bobsledder Chris Fogt may have been competing in his home state Friday night, but he didn't feel at ease until he and pilot Steve Holcomb crossed the finish line at Utah Olympic Park with the first two-man World Cup win of his career.
Fogt admitted he was nervous pushing for Holcomb in Friday night's competition, in part because Holcomb won gold last weekend in Calgary with their four-man teammate Steve Langton.
"They won gold last week," Alpine native Fogt said after he and Holcomb earned the win with a combined time of 1:37.67. "Langton is a monster, and he pushed great last week. So it was tough. I was a little nervous to keep that going, but after that first push, I felt great about it. This last (push) was awesome."
Holcomb and Fogt had the fastest push times in each of the two rounds, and the victory was the third gold in three races for Holcomb.
"Hopefully we'll keep the momentum for (Saturday)," said Holcomb. "My guys are motivated, they're pumped up, and seeing us be successful today, it's going to motivate them more."
Holcomb and Fogt's success capped a historic day for the United States bobsled and skeleton team. In four races on Friday, the U.S. earned six medals — three gold, one silver and two bronze. The most the team had earned previously was five in the world championships in 2012 at Lake Placid, N.Y. The team could earn more medals Saturday as there is another women's World Cup, as well as the four-man race.
USA 2 driver Nick Cunningham and Dallas Robinson earned silver with a time of 1:35.76, while Germany's Francesco Freidrich ruined a sweep by the Americans when he claimed bronze with a time of 1:35.80. USA 3 driver Cory Butner and Charles Berkeley finished fourth with a time of 1:35.93.
"I think it's awesome, especially for the women, as well," said Holcomb, who was competing in his hometown. "It's a great day for the United States. We're really showing the talent we have. ... Everybody is doing well, and to see Cory come from eighth to fourth and Corey maintain second, that's huge."
Cunningham said many members of the team struggled with training in frigid temperatures this week. They overcame the conditions by relying on each other.
"You can tell the depth and drive of this team," he said. "It really does show, 'We're here; we know it's the Olympic season; we know we have to try a little bit harder, and we really do have to work together as a team. I really do think we all came together this week. Not the best week of training for any of us, so to come out on race day and go one-two-four is phenomenal."
In the women's race, American Elana Meyers teamed up with Aja Evans to win Meyers' first World Cup race as a driver with a time of 1:37.67. Canadian powerhouse Kaillie Humphries and Heather Moyse were second with a time of 1:37.80. USA driver Jamie Greubel and Katie Eberling earned bronze with a time of 1:37.86, while U.S. pilot Jazmine Fenlator and Emily Azevedo were fourth with a time of 1:38.15.
"I think our goal of finishing one-two-three in Sochi is starting to come to fruition," Meyers said. "Today was super exciting to be able to come to our home track and get a first win as a pilot, and get Aja her first win."
Snow started to fall midway through the men's race, which slowed the sleds.
"That was a little frustrating, but it is what it is," Holcomb said. "It's part of racing; you have to deal with it. It started snowing and it didn't help our times, but we stayed focused and did what we do best — pushed as hard as we could; I drove as best I could; and we ended up in first place overall."
The single-digit temperatures also made the ice harder, more slick and tougher for inexperienced drivers, which made the U.S. team's performance even more impressive.
Fogt said he didn't think he would be nervous for Saturday's four-man competition.
"This is the first (two-man gold) of my career," he said, his voice strained with fatigue. "It feels great. Hopefully we can keep this going."
Twitter: adonsports, Email: adonaldson@deseretnews.com