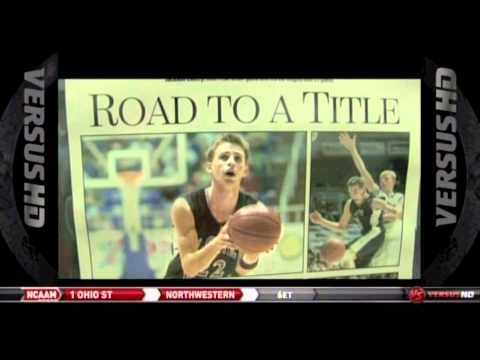 View 4 Items

Editor's note: This is the second in a three-part series on BYU basketball. Part 1 took a look at what could have happened with the Cougar basketball team in the 2010-11 season. Part 3 will take a detailed look into the future of BYU basketball.
For a follow-up to an article taking a look back at the memorable and nearly legendary run of the 2010-11 BYU men's basketball team, Jackson Emery, star senior shooting guard and captain on that team, was kind enough to talk with me and share his unique insights into the story.
A little background: Emery played his high school ball at local powerhouse Lone Peak and was named Mr. Basketball in the state of Utah in 2005. He played one season at BYU before leaving on an LDS mission for two years in Mexico.
From his sophomore to senior years, Emery started 99 games for the Cougars. He finished his career as the program's all-time leader in steals, No. 23 all-time in scoring, No. 3 in 3-pointers made, No. 11 in games started, No. 13 in minutes played and No. 5 in wins. He was chosen to the Mountain West Conference's All-Defensive Team his final three seasons and was the conference's Defensive Player of the Year in 2011 in addition to myriad other awards.
In talking with BYU fans, Emery is well-remembered for his upbeat personality and sportsmanlike attitude, in addition to his defense, 3-point shooting and jumping ability.
Emery had options to pursue a professional basketball career in Europe after college but chose to focus instead on his family and providing a living for them. Even though he can still play the game at a high level and misses it, he is a happy father of two and is working for a company called Domo Inc.
Here's a look at the question-and-answer session with Emery:
Gagon: You guys were so close in 2011 to beating Florida and going to the Elite 8, where you would have had only Butler, VCU and Connecticut left to beat. If you would have gotten past Florida, how good do you think your chances would have been to win it all?
Emery: I think our chances would have been really good. I knew Florida would give us a huge challenge because of how big they were, starting three 6-foot-10 guys and then just having the talent surrounding them. I thought, by far, looking at Florida, Butler, VCU and Connecticut, that Florida was the most talented team. I looked at all those teams, and you know, we could have competed with them. We could have beaten them. I think that's probably what made the loss so much harder. But unfortunately we didn't have that opportunity.
Gagon: I remember at the time of the tournament, thinking about how good you guys might have been if you would have had Brandon Davies, Tyler Haws and Michael Loyd Jr. who all should or could have been on that team, but were not for various reasons. Considering how close you were anyway, how do you think having those three guys would have impacted your chances to win the NCAA championship?
Emery: Brandon was sorely missed. He provided a huge post presence that could score, especially since we had a lot of guys that could stretch the floor and attract attention. Particularly against Florida, having three 6-10 guys — I mean they started three forwards where we started four guards, so Brandon was sorely missed.
Tyler would have been a huge boost with his ability to score, his toughness, and his way of rebounding the ball. To have him would have been huge.
And then Mike Loyd, to have that component of quickness to attack the hoop — all those guys provided different capabilities and strengths.
It would have been nice to have all three of them for sure.
Gagon: As far as you know, did Tyler ever look at that 2011 team, think about the possibilities, and consider playing one more season before going on his mission?
Emery: You know, he did not. Or, if he did, he never vocalized it or communicated it with me. Tyler and I have been pretty good friends. I've known him since he was a young guy at Lone Peak. When we'd go on the road he was my roommate (the prior season) so we'd travel together. His focus was to give it his all his freshman year and then to go serve a mission right after that. He never mentioned anything different to me.
Gagon: After he got back, was there any talk about the what-if scenario of what might have been if he had played one more year?
Emery: You know, we haven't really chatted about that — that's a good point. I know people have always asked him about the year we had, and he's always just expressed his amazement at how well we did and the things we accomplished. But he's a big believer in missions and how they prepare you for the future both on and off the court. If we did talk about it, it was probably just lighthearted, but I don't remember any times of him saying anything about it.
Gagon: I remember in the Florida game, particularly, and really throughout the year at times, watching the team and thinking, man, Jimmer (Fredette) is a great player but he sure is taking a lot of shots and some that, even for him, were a little bit questionable at times. Do you think any players on the team had a similar feeling about that?
Emery: I mean, yes and no. There were times I'd get angry at Jimmer for some of the shots he took, just because they weren't good shots. And I think Jimmer, when he watched the film, he'd be the first one to tell you, yeah that wasn't a great shot.
You know, I'd mostly tell him — we always had this belief at BYU, and I was always taught at Lone Peak as well — that you pass up a good shot for a better shot. So, you know, when he would take a bad shot that's when I'd get frustrated with him and say, you know, we're going to get you the ball, but let's get you in a better position where you're open or where you have some space rather than trying to force it in certain situations.
With that being said, however, that's what made him Jimmer. He made shots, he made plays, when there really wasn't a lot of opportunity to do so — from shooting deep, to driving, to shooting around big guys with scoops under their arms — I mean he did things that amazed people and amazed the crowd.
If he shot 25 percent, I would have had a lot of issues with it, and same with the team. But he didn't shoot 25 percent. He was shooting in the mid-upper 40s. He was shooting extremely well. I'm a percentages guy. So, you know, for every maybe two bad shots he would take he would make eight good plays. That's pretty darn good.
Now that doesn't mean if he did take a bad shot at a bad time I wouldn't get after him because there was that expectation on the team that we should make each other better. But I always knew Jimmer was trying his best to make plays to help the team out.
Gagon: Did you feel that Jimmer was pretty open and receptive to feedback and comments from teammates then?
Emery: Oh, yeah. I think everyone on that team was receptive to that kind of thing. I think that's what made that team special is that not only were we good on the floor, we were close friends off the floor.
Gagon: Is there a favorite moment from your college career at BYU that stands out to you?
Emery: Yeah, that's always tough because I had a ton of favorite moments — big games, rivalry games, big home wins, big road wins and then tournament wins.
I think I'll always go back to that Gonzaga win in the second round (of the 2011 NCAA Tournament) just because, you know, everyone doubted us. We had lost Brandon a couple weeks prior. But we used that as motivation, came together, and everyone from starters to those that came off the bench played a huge game.
Then, going to the next game against Florida, as big and talented as that group was, we were one free throw or one rebound away from going to the Elite 8. So I think that run was really special.
Gagon: How about, on the other hand, your biggest regret?
Emery: I think one in particular was the Florida game. I opened off the game with, I think, nine points. I was shooting the ball really well. I had Irving Walker on me so I had a significant size advantage. But then I got three fouls. Coach (Dave) Rose decided to take me out rather than leave me in. And his risk paid off in regard to, you know, we were still in the game. I think we were tied at half. But I sat for 45 minutes to an hour between the first and second halves and I never really got in a rhythm again in the second half.
So, one thing I wish is that I would have played aggressively, but not too aggressively, so I could have stayed out of foul trouble and kept my rhythm into the second half.
Gagon: What do you think the chances are of BYU reaching a Final 4 in the near future? Does anything stand out as far as what they will have to do to make that finally happen?
Emery: I think the pieces are there. I think coach Rose has put together a couple of terrific recruiting classes with my brother's class (last year's) and also with TJ Haws' class this year. I think they have a lot of variety in these new recruits — quickness, athleticism, toughness, scoring, etc.
I think when you look at a Final 4 team, you first look at where they start with the pieces they have. I feel like coach Rose is building good enough pieces to make that jump a couple years from now.
A lot of those guys are going to be serving LDS missions, so it's going to be interesting to see how it all comes together. They have the talent. Now it will just be a matter of how the guys come back from their missions and how they fit with one another.
I've met most of the guys that have committed and they're all great guys. The future is bright for BYU. I think the future is extremely bright. I think there could be special things happening in the near future.
Gagon: Thanks again, Jackson, for taking the time to talk with me. You were a fantastic basketball player, a joy to watch and the type of guy I would be happy to have my sons look up to. Thanks for that example.
Emery: Thank you for the opportunity, Nate. I'd be glad to talk with you anytime.
Nate Gagon is a published sports, music, and creative writer. He is also a wholehearted father, grateful husband and ardent student of life. He shoots roughly 94% from the free-throw line and can be reached at: [email protected] or @nategagon.