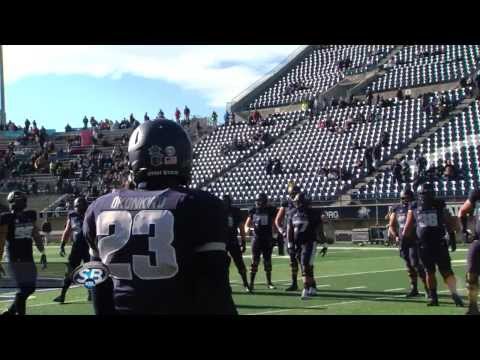 View 4 Items

The Aggies are within reach of attaining their preseason goal of winning a Mountain West championship. With a dominant win over the Wyoming Cowboys, the Aggies locked up the Mountain Division of the conference, boasting a 7-1 mark in conference play.
Todd Orlando's defense has played a major role in the Aggies' success this season. The unit allowed the Cowboys only one touchdown the entire game, coming early in the fourth quarter when the game was already well in hand. Defensively, the Aggies now rank first in the Mountain West and 11th nationally in total defense, giving up only 321 yards per game.
On the offensive side of the ball, the Aggies did plenty against Wyoming. Darell Garretson gave a solid performance as he completed 20-of-29 passes for 156 yards and three touchdowns. Joey DeMartino also became the 17th Aggie to rush for more than 1,000 yards in a season. In all, this has been his sixth game this season where he has rushed for more than 100 yards.
Special teams worked terrifically as well. Punter Jaron Bentrude pinned the Cowboys inside the 20-yard line multiple times, ensuring the Aggies won the field position battle handily. As a bonus, Jojo Natson busted out a 64-yard punt return for a touchdown.
Now the Aggies face arguably their toughest challenge of the season against the Fresno State Bulldogs.
The Bulldogs, coached by Tim DeRuyter, have had a phenomenal season led by prolific quarterback Derek Carr, who has thrown for 4,462 yards and 45 touchdowns with only five picks. Carr rarely makes mistakes and has a knack for the deep ball. He has single-handedly carved up many teams this season, but there have been a few close ones.
After an overtime win against Rutgers to start the season, the Bulldogs easily handled Cal Poly. Shortly after, their game against the Colorado Buffaloes was canceled due to flooding. Then the Bulldogs survived another close game with a one-point win over Boise State at home, winning the Milk Can trophy for the first time since 2005.
From there on out, Fresno State appeared to be headed for a perfect season. Most of the Mountain West competition proved incapable of slowing down Carr's scoring ability as he racked up touchdowns and yardage with ease. Surviving two more close games against Hawaii and San Diego State only cemented the perception that the Bulldogs were a team of destiny this season.
Then San Jose State popped the perfect-season bubble.
Fresno fans watched in agony as the BCS dream died at the hands of Spartan quarterback David Fales, who easily matched Carr touchdown for touchdown and then some in a high-scoring affair. The two teams collectively scored 83 points in the first half alone. The Spartans went on to win 62-52, their first victory over a ranked opponent in 13 years.
Whether the Bulldogs are fired up over the loss or demoralized remains to be seen. As it seems though, the Aggies will have to assume it's the former and play their best game to stand a chance at knocking off the 24th-ranked Bulldogs.
Fresno's offense will be tough to slow down. It has averaged 47 points per game and 580 yards per game this season. Carr has mostly thrown to sophomore wide receiver Davante Adams, the biggest receiving threat on the team. He has 113 receptions for 1,477 yards with 22 touchdowns. Josh Harper is Carr's next favorite target, with 79 receptions for 1,011 yards and 13 touchdowns.
Though rushing the football isn't the Bulldogs' forte, BYU transfer Josh Quezada has put up respectable numbers this season with 733 yards and six touchdowns on 132 carries. He's been relatively consistent, too, so Utah State will have to account for this. The Aggies also need to watch out for Marteze Waller, who has 608 yards and seven touchdowns on 113 carries.
As impressive as Fresno's offense has been this year, its defense hasn't been nearly as strong. The Bulldogs have given up more than 30 points per game, good for 85th in the country, and nearly 437 yards per game. Consequently, Fresno has been in some extremely close games that, on paper at least, probably shouldn't have been. Hawaii nearly beat Fresno earlier in the season, and both Boise and Rutgers were one point away from getting a win.
Linebackers Karl Mickelsen and Ejiro Ederaine have stood out as defensive leaders on the team and both have been productive for the Bulldogs. Both of them had double-digit tackles against the Spartans. On the defensive line, nose guard Tyler Davison has helped out along with defensive end Nikko Motta. Both have a lot of experience, and if they can disrupt Utah State's offensive line, it could make scoring points for the Aggies much harder.
Here's the bottom line: This will be the hardest game of the year. If the Aggies cannot slow down or disrupt Carr, it will be nearly impossible to win the game. As such, Utah State is going to need exceptional play from the cornerbacks and safeties.
10
comments on this story
Thankfully, Fresno's run game isn't particularly strong, so the Aggies shouldn't have a problem shutting it down and making Carr beat them with his arm. Still, getting a consistent pass-rush going will be key. The more pressure Utah State gets on Carr, the better.
And if the defense does its job and keeps Fresno's offense off the field, Garretson should be able to pass on the Bulldogs' porous secondary.
Everything the Aggies wanted to accomplish this season is well within reach. Now they just have to go in and take it.
Sam McConkie is a technical and professional writing graduate from Utah State University. Email: samus_4@hotmail.com