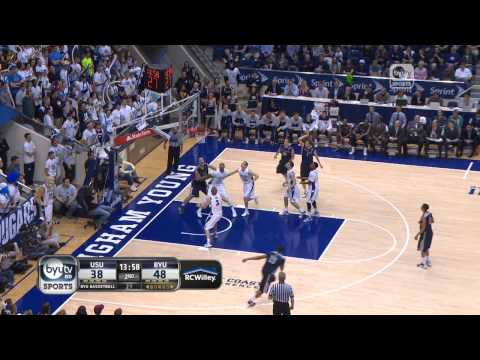 View 2 Items

They usually go right down to the wire. ... I know our guys are really looking forward to it and hopefully there's a great crowd there and good energy.

—Dave Rose
SALT LAKE CITY — The BYU basketball team has had little time to rest during the early stages of the 2013-14 season.
After suffering a tough loss to No. 12 Wichita State Tuesday night in Kansas City, Mo., the Cougars face in-state rival Utah State on Saturday at 7 p.m. inside EnergySolutions Arena.
The Aggies are 5-0 this year and always seem to present a stiff challenge to the Cougars — no matter where the game is played.
"They've been real competitive games," BYU coach Dave Rose said of his team's contests against USU. "They usually go right down to the wire. ... I know our guys are really looking forward to it and hopefully there's a great crowd there and good energy."
Utah State comes into the game playing very well after experiencing a down year for the program last season. The Aggies return four starters and are led by center Jarred Shaw, who averages 16.4 points and seven rebounds per game.
Rose believes the Aggies are as deep and as talented as any team coach Stew Morrill has had in recent years.
"I think he has one of his real special teams this year with the combination of their experience and with the depth at each position," Rose said. "I think it's going to be a real battle, but I also think Utah State is going to have a great season with where they've been and with what they're doing."
The opportunity to face a high-quality, in-state opponent has BYU players, such as junior Tyler Haws, excited.
"It's a really important (game) for us," Haws said. "Any in-state team we're playing against is always a game we're looking forward to and we need to be ready. We know Utah State — they have just a bunch of guys that just battle — (are) hard-nosed guys. So it should be fun."
FRIENDLY CONFINES: While all BYU players are looking forward to playing in EngerySolutions Arena, Haws may be more excited than anyone. The star swingman dropped 42 points in a 97-71 win over Virginia Tech last season on the home floor of the Utah Jazz.
"I like playing at EnergySolutions," Haws said. "It's a fun place to play and hopefully there will be a good crowd and hopefully it's a good game."
GOING WITH GOGGLES: Freshman forward Eric Mika practiced Friday with the goggles he's been wearing since sustaining a brutal eye poke against Iowa State.
"I think he'll wear them until he feels like he doesn't need them anymore," Rose said. "I don't know when that will be and he says they don't affect him in any negative way. So I would imagine he'd wear them for a while because that was a really tough hit that he took."
In other injury news, Haws says he feels fine after sustaining a strained abdominal injury a little more than two weeks ago. Haws practiced fully this past week.
"I'm feeling great," Haws said. "There's a few bumps and bruises, but that just comes with the season. I feel good right now and hopefully I can stay healthy."
Email: [email protected]
Twitter: @BrandonCGurney