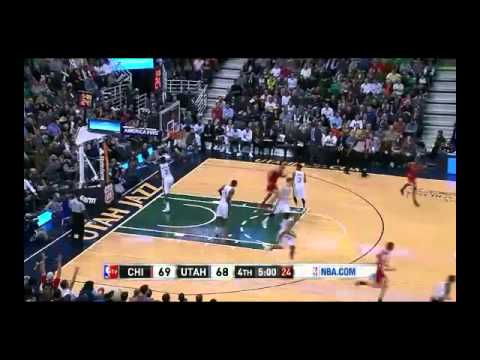 View 52 Items

The Chicago Bulls have had better days. Already smarting from some devastating news earlier on Monday, the Bulls fell short as the Utah Jazz took advantage of their vulnerable opponents. Utah made the plays down the stretch to earn a dramatic, hard-fought 89-83 win in overtime.
Monday morning, Chicago found out that it would be without its franchise player and former MVP, Derrick Rose, for the remainder of the season. To compound matters, the Bulls were playing the second of a back-to-back set on the road. Utah obviously had its own share of problems, evidenced by a 1-14 record going into the game. In the end, the Jazz had enough to secure their second win of the season.
Learning experiences: The Utah Jazz's young core made its fair share of mistakes, but the players' ability to contribute with some clutch play will be vital for their growth and learning.
Gordon Hayward's shot was once again off, including a potential game-winning shot — a less than ideal fall-away jumper. But the swingman was spot-on with his passing from the get-go. None was bigger than an alley-oop to Jeremy Evans in overtime. Hayward finished with a career-high 12 assists, with only one turnover. He also tallied 15 points and six rebounds.
Backcourt mate Trey Burke is learning on the job. Monday signified the first outing where the rookie was truly given the keys to run the car. Burke played a career-high 34 minutes and while his shot too was errant — a dismal 5-of-17 evening — he made a key 3-pointer that created a separation that proved to be the difference in the extra period.
Lastly, with Enes Kanter out with an ankle injury, Rudy Gobert was pressed into increased duty. And he responded. In 21 minutes, the French center battled against Chicago's talented front line and held his own. He corralled nine rebounds and made his presence known defensively.
Veterans lead the way: Not to be outdone, veterans Richard Jefferson and Marvin Williams were huge for head coach Tyrone Corbin. Jefferson was very efficient, going 5-of-8 from the floor en route to a 15-point game. Nothing was bigger than a 3-point play late in regulation that helped propel the Jazz into overtime.
4
comments on this story
Williams was the Jazz's most consistent player all night. He registered 19 points and nine rebounds, while playing some spirited defense down the stretch.
This and that:
• Former Jazz All-Star Carlos Boozer showed that he was willing to help compensate sans Rose. He gave Derrick Favors and company a lot of trouble, ending the night with 26 points and 16 rebounds.
• The Bulls had three individuals with double-figure rebounding totals.
• After some impressive games, point guard Diante Garrett didn't make it into the game.
David Smith provides instant analysis for Deseret News' Utah Jazz coverage. He works for LDS Philanthropies and also writes for Salt City Hoops. He can be reached at mechakucha1@gmail.com or on Twitter at davidjsmith1232.