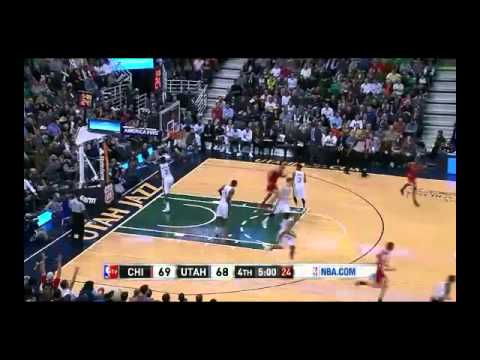 View 65 Items

Coach told me I'd make mistakes and you've gotta learn from them and play confident out there. I'm starting to get my confidence back.

—Jazz point guard Trey Burke
SALT LAKE CITY — It's a lot of pressure for someone who looks like he could be selling insurance. Trey Burke is approximately the same height as those who write about him.
Yet there he is, a kid in every sense, trying to drag the Jazz out of the doldrums.
Although Enes Kanter, Gordon Hayward and Derrick Favors have the same charge, they clearly haven't been enough, so far. So with Burke's return from a hand injury last week, there was a slight sense of optimism as he played his first home game on Monday.
Maybe he can get them going.
Burke made his EnergySolutions Arena introduction good. How did he do it?
With a trey, of course.
Burke's 3-point shot with 3:10 left in overtime stretched the Jazz's lead to five as they beat Chicago, 89-83. They never gave back the lead. It's true he played like a kid, at times, but he also manned up when it counted. His late pull-up jumper never wavered.
"Coach told me I'd make mistakes and you've gotta learn from them and play confident out there," Burke said. "I'm starting to get my confidence back."
Meanwhile, the Jazz crowd was starting to act like it's old self, too.
From any angle, it looked like a different Jazz team than the 1-14 club that limped into Monday's contest. Burke was good but not great. He made just 5 of 17 shots, had five turnovers. But he also had 14 points and four assists, some of them artistic.
The Jazz might still be the league's worst team and Burke is still a wide-eyed kid. If he does indeed become the field general, it will be over time, not overnight. But he showed good signs on Monday.
Nerves?
"Not really," he said. "I used to play in tight games like that in college."
The Jazz returned home from their disastrous road trip on Sunday night, following an embarrassing loss to Oklahoma City. That made it six straight losses. How bad has it been? Think 1974, when the Jazz began in New Orleans. That initial season they won just 23 games.
But unlike this team, that one had a superstar. Pistol Pete Maravich averaged 21.5 points. Though the Jazz lost 16 of their first 17, they ended up playing fairly well in the second half, at one point building a six-game win streak.
This team may not win that many all year.
Still, the story on Monday was Burke's first appearance at ESA. He's certainly no Maravich. But the crowd gave him the benefit of the doubt — with good reason. When introduced, he received a warm welcome, as loud as any player.
Burke is a nice addition to a team that has been unable to find a reliable point guard since Deron Williams was traded. When the Jazz traded up to get the No. 9 pick, fans were ecstatic to get the college player of the year. Then came the preseason broken finger that sidelined him the first dozen games.
Uncertainty hit Jazz fans during the summer league when Burke shot abysmally. He played quite well last week in New Orleans, scoring 11 points in 12 minutes. But after that he went just 4-for-17 from the field. He wasn't alone. So far this year Hayward hasn't been able to find the moon with a telescope.
Monday, though, was different. Burke was the darling debutante. He sank his first two shots. One came on an easy layup with nobody near, the second on a 3-pointer left of the key circle.
But then the rookie inconsistencies appeared. A 15-foot shot came off the rim, a bounce pass went out of bounds, an open jumper in the lane was flat. One thing was sure: the Jazz aren't planning to take their time with him. He played 35 minutes, 15 more than his previous high, including the stretch run. He made just 5 of 17 shots and had five turnovers.
Still, he also turned in the play of the night. On one fast break he drew his man, then hooked a pass behind his ear to a thundering Derrick Favors for a dunk.
The crowd cheered as though it were 1998.
One thing seemed sure in Burke's debut night: he's destined to be a fan favorite if his game comes along. He took time during warm-ups to sign autographs, rather than do media interviews. Before and after the game he was just what he should have been: cool, confident and collected.
If you didn't know better, you might even think he'd even grown an inch.
Email: rock@desnews.com; Twitter: @therockmonster; Blog: Rockmonster Unplugged