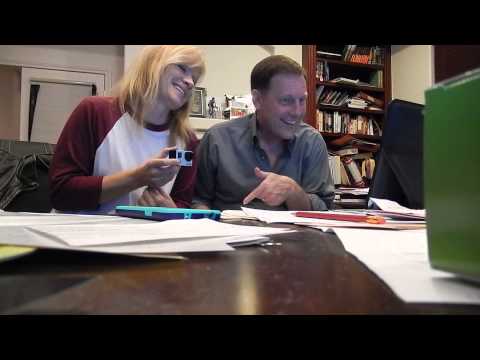 View 8 Items

We're just really happy that she got called on a mission and that she wanted to do this, that it was the right thing for her.

—James Munafo
Not only did Sarah Munafo want to keep it a secret from her dad that she was working on her LDS mission papers, but she decided to break the news to him by giving him a surprise that caused him to sweat bullets.
Munafo, 19, is studying at Brigham Young University-Idaho and had been tossing around the idea of serving a mission for The Church of Jesus Christ of Latter-day Saints ever since President Thomas S. Monson announced the lowering of the missionary age requirement during her senior year of high school.
Following the announcement, Munafo began part of the application process before moving to Idaho for school. During this time, Munafo's father had consistently shared his desire for her to serve a mission.
"I'm a convert to the church, I joined when I was 18 and went on a mission, and it just was a fantastic experience for me. I always was pushing — we have a large family of five daughters and three sons — and I always pushed the missionary aspect and wanted to encourage my daughters and sons to go on missions," James Munafo said. "So with my daughters, I got excited when the age dropped."
James Munafo had shared the importance of missionary work with his children through his own conversion story, as well through discussions about the blessings he received from serving a mission in South Africa.
"I don't really know how hard it is to find the gospel and take missionary discussions, but from my dad's experience I've learned that missionary work is important," Sarah said. "His sister was actually the one taking the discussions, and he wanted to protect her from people filling her head. So he sat in on the discussions ,and he actually ended up being the one to stay with the church. … So that really made me think that missionaries are important to help bring the gospel to those who haven't even heard of it."
But before Sarah made the decision to serve, her father would often check in on her thoughts regarding the topic.
"I probably teased Sarah and put a little bit of pressure on her about going on a mission, always in a playful way," James said.
Sarah retold one of her favorite mission plugs her dad made.
"My favorite line from him, I was telling my mom about the guy drama I was in and he would just say stuff like, 'Um, Sarah, it sounds like you need an 18-month break.' He would constantly say stuff like that, so it was funny," Sarah said.
But regardless of his jokes, James and Rebecca made sure Sarah knew that whatever she decided, they would support her.
"She was dating some really nice guys, and we kept telling her, 'You know, despite Dad's teasing — and you know I'm biased towards a mission — you need to find out for yourself. You need to go to your Father in Heaven,' " her dad said.
So as soon as Sarah decided that serving a mission was what she wanted to do, she decided to fool her father by not telling him about submitting her papers and lead him into believing that she was about to get engaged.
"At first I wasn't going to tell him about my mission papers just in spite of the fact that he really wanted me to go," Sarah said. "So it started out that I was just not going to tell him until I got the papers, but as it got closer, I was thinking about how at one point I might not have gone on a mission because of the possibility of getting married soon — and that that would be the best prank ever for my dad."
Soon her family, her home ward and even all of Facebook knew that Sarah's mission papers were in, except for her father. But it wasn't always easy to hide the news.
"It was so hard. I had talked to him on the phone a week before, and he asked about the mission process, if I had put any more thought into it, and I just sort of changed the subject," Sarah said. "I almost gave something away and just changed the subject to my dating life."
But the day finally came when Munafo's mission call arrived at her parents' home in Elizabeth, Colo. She quickly texted her dad to set up a Skype date, and reminded him that she would be with a boy and that they had a question for him.
"I dropped hints, I had been texting (my dad) a couple days prior. I said things like, 'Make sure you're not wearing a bathrobe for our Skype date because there is going to be a handsome guy sitting next to me,' " Sarah said.
Because of the hints, her father was worried and even said a prayer before the Skype call.
"I was concerned before it started," James said. "When I heard that it was a boy and that the boy wanted to talk, that was kind of concerning."
Rebecca relayed that having not heard anything about this boy also added stress to the situation.
James knew nothing about the boy in question, but he and Rebecca eventually sat down to Skype with their daughter, and began talking with Jason, the boy sitting next to Sarah. After some small talk, Jason started asking questions to get better acquainted with James, who slowly became uncomfortable and had no idea the entire conversation was being filmed.
While much of her dad's reaction was what Sarah expected, she was surprised with how concerned and anxious he became.
"He adjust his collar, and he avoids eye contact, and he just kind of looks down and has this serious face and even does this eyebrow raise," Sarah said. "So I was expecting all that, kind of, not the collar adjustment that he does. That was really funny. I started laughing when he did that. … And he was avoiding eye contact a lot more, and he looked like he was going to start sweating."
It finally came to a point in the conversation where James asked what the big question was. Jason slyly took his time before saying he really wanted to ask him, "Where do you think your daughter will go on her mission?" Rebecca then pulled out Sarah's mission call.
"I took it pretty seriously," James told the Deseret News. "It was a painful experience, but it ended fantastically."
The sudden mix of emotions caught James off guard and provided the response that Sarah had hoped for.
"I was almost in shock because of the turn around and the setup. It was humorous to me too. It took me awhile to recover. I guess I had several different emotions flowing through my body — both relief and absolute ecstasy that she had done that. And also appreciating that she would play that on me," James said.
Once he came to grips with the situation, James was able to express his excitement.
"We're just really happy that she got called on a mission and that she wanted to do this, that it was the right thing for her," James said.
Because of his previous teasing, Rebecca said that it was something her husband could take.
"So the back story is that he kind of deserved it. You know, the prank just made it really funny that he had to sit there while this guy was going to propose," Rebecca said.
Sarah eventually opened her mission call, and she is assigned to serve in the West Indies Mission.
"I was so excited, my arms were shaking when I was opening it," Sarah said. "I'm definitely excited to explain the gospel to people."
As for James, he couldn't be more proud of Sarah for having taken her own time to make the decision and for the service she will provide.
"I think the world needs or could use that special touch of a sister missionary," James said. "The sister missionaries, in my experience, they were the missionaries that were dedicated and did so much. They touched people that the elders weren't able to touch, and maybe even the seniors weren't able to touch. … Sarah has some special abilities, as do all of these wonderful young men and young women who go out there and touch lives."
The video of James' reaction was posted on YouTube and has more than 1,000 views.