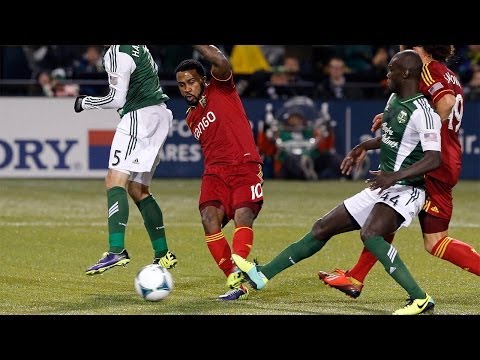 View 8 Items

I think for me, the most rewarding thing is not about getting back to the MLS Cup. The most rewarding thing is that this group has won a trophy. Another trophy. Frankly, in my honest opinion, and I'm sure it's not everybody's — this team deserves more trophies than they have.

—Real Salt Lake coach Jason Kreis
PORTLAND, Ore. — Four years of disappointment helped Real Salt Lake soak in every second of the pomp and circumstance at Jeld-Wen Field Sunday night.
After winning MLS Cup back in 2009, RSL began each of the next four seasons with lofty trophy ambitions, but prior to Sunday had nothing to show for it. The club finished second in the 2010 Supporters' Shield race, second in the 2011 CONCACAF Champions League final, second in the 2011 Western Conference final and second in the 2013 U.S. Open Cup final.
Much to the delight of coach Jason Kreis, that trophy drought is finally over after beating Portland in the 2013 Western Conference final.
"I think for me, the most rewarding thing is not about getting back to the MLS Cup. The most rewarding thing is that this group has won a trophy. Another trophy. Frankly, in my honest opinion, and I'm sure it's not everybody's — this team deserves more trophies than they have," said Kreis. "They've put themselves in a position to win so many times, and it's just been unfortunate not to.
"So I think that this is a very deserved trophy — both for what we have done over the regular season and certainly in the playoffs, but more so for what we've done now for five years in a row."
Midfielder Ned Grabavoy believes each of those previous failures galvanized the team for a dominant two-game triumph over Portland.
"There's been some times where we've lost big games, but I think that helps us a little bit, learning from that, learning how hard it is to win a championship. It's not easy or everybody would do it," said Grabavoy.
The focus now for Real Salt Lake is to claim an even bigger trophy at Sporting Kansas City in two weeks. If successful, it would put a second star above RSL's crest — and certainly trump the accomplishments of that 2009 Cinderella team.
Back in 2009 there were only 15 teams in the league, but that number has swelled to 19 with the addition of Philadelphia, Portland, Vancouver and Montreal over the past four years. With New York City FC and Orlando City joining MLS in 2015 and then three more teams by 2020, winning trophies is going to only get increasingly more difficult.
Kreis admitted Sunday night that 2013 wasn't a year he expected to be adding trophies.
"At the beginning of the season, if we could've had this same exact conversation with everybody, I would've said, 'We'll barely make the playoffs; we're going to be very inconsistent; we're going to win a game; we're going to lose a game. We're going to win two games; we're going to lose two games. We're going to have good performances and then we're going to turn around and have bad performances,'" said Kreis.
"But the team has proven me wrong, and that doesn't happen too often."
A month ago, Kreis wasn't sure Real Salt Lake had a playoff run in it, but now he'll be coaching in December for the first time in franchise history.
RSL midfielder Javier Morales said he never doubted great things could happen in 2013.
"We always believe. I believe in this team. I believe in this team. I believe in my coach," he said.