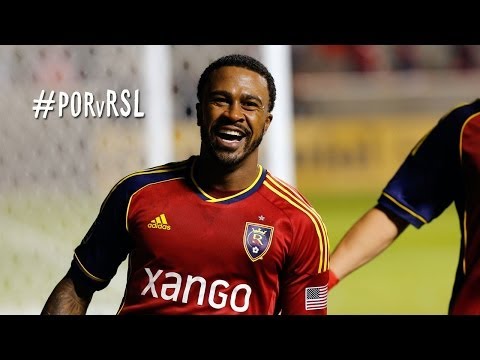 View 14 Items


I've said it all yearlong we brought Robbie Findley back because he's capable of scoring the goal in the biggest moments.

—RSL coach Jason Kreis
PORTLAND — Robbie Findley has rediscovered his finishing touch at exactly the right time.
After enduring a 431-minute scoring drought from Aug. 17 to Nov. 7, the Real Salt Lake striker has now scored in back-to-back games and his goal in the 28th minute Sunday effectively finished off the Portland Timbers.
Moments like that are why RSL coach Jason Kreis wanted Findley back after his two-year hiatus in Europe.
"I've said it all yearlong we brought Robbie Findley back because he's capable of scoring the goal in the biggest moments," said Kreis. "We've had forwards over the past couple of years who've scored the goals in the soft games but not necessarily when all the chips are down. Robbie's waited for the exact right time to find his form."
There's something about Portland goalkeeper Donovan Ricketts that brings out the best in Findley come playoff time. The speedy striker scored against Ricketts, who was then with L.A., in the MLS Cup final in 2009 and slipped a goal past him in consecutive playoff games this year.
Both goals in the Western Conference final were opportunistic finishes, but those are the types of goals Real Salt Lake hasn't been able to score in big moments since Findley departed after the 2010 season.
SUBTLE YET AGAIN: Much has been made about Portland midfielder Will Johnson facing his former teammates this playoff series, but quietly Lovel Palmer filled the opposite void and was just as important on Sunday.
Having spent the previous two years in Portland, Palmer returned to Jeld-Wen Field in a visiting uniform Sunday and was instrumental in the 1-0 victory.
Even though he picked up a seventh-minute yellow card, creating anxious moments for RSL's bench any time he went in for a challenge the rest of the way, he certainly helped slow down Portland's attack. He started in place of injured defender Chris Wingert.
Palmer was eventually replaced by Abdouli Mansally in the 59th minute as Kreis no doubt guarded against a second yellow card, but his commitment in the opening hour proved to be huge.
GRABAVOY BACK IN: After playing only four minutes in Leg 1 as he recovered from a hamstring strain picked up earlier in playoffs, Ned Grabavoy was back in the starting lineup for Real Salt Lake on Sunday.
Some wondered if Sebastian Velasquez would get another start after playing well in RSL's two previous playoff games, but Kreis suggested that Grabavoy's spot in the starting lineup was never in question.
Comment on this story
"It's a good thing to have players that play really well that don't start. It's a good thing to have players who play really well who didn't make the 18," said Kreis. "We had three players that didn't make the 18 tonight who've made huge contributions to this team and huge contributions recently. That's a good problem to have and I think that's where the league needs to be moving towards so all the rosters are deeper to make the decisions tougher on the coaches."
Not surprisingly, Grabavoy played a very strong match in the midfield and was instrumental in RSL's surprisingly clean sheet against the explosive Timbers' attack.