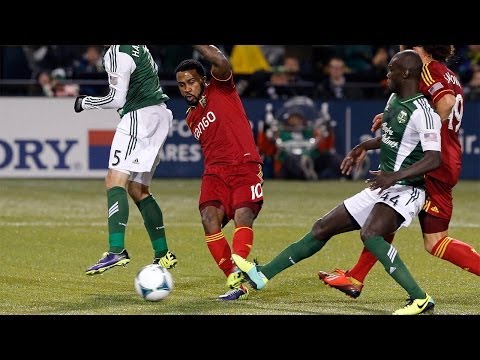 View 14 Items


It's a great feeling. It's a good win for the team. I think everybody put in the hard work, and when you have all the guys committed to working hard and doing their job you win games. We feel good right now, but we still have one more.

—RSL's Robbie Findley
PORTLAND, Ore. — Real Salt Lake continues to redefine the meaning of rebuilding year.
After trading away two all-stars last offseason and putting a ton of trust in a bunch of unproven youngsters, 2013 was supposed to be a season RSL was just happy to make the playoffs. Instead, it's 90 minutes from a championship.
Coming off its resounding attacking performance at home in Leg 1 of the Western Conference final, Real Salt Lake backed it up with a clinical defensive performance at Jeld-Wen Field in Leg 2 on Sunday night, beating Portland 1-0 and winning the series 5-2 on aggregate.
The victory stretches RSL's unbeaten streak against the Timbers to 10 straight.
"It's a great feeling. It's a good win for the team. I think everybody put in the hard work, and when you have all the guys committed to working hard and doing their job you win games," said RSL goal-scoring hero Robbie Findley. "We feel good right now, but we still have one more."
With the victory Real Salt Lake advances to MLS Cup at Sporting Kansas City on Dec. 7. Kansas City won the only meeting between the clubs this season 2-1 at Rio Tinto Stadium back in July.
RSL's spot in the final was never really in question Sunday. Sure, there were tense moments early on as Portland threw numbers forward knowing it needed a multi-goal win to keep its season alive, but RSL's back line was there to sniff out all the chances.
It was exactly the type of start coach Jason Kreis was hoping to avoid.
"Our objective was to try and reverse things a little bit and put them under pressure, but it's hard to when they're throwing both their outside backs forward and playing as direct as they were," said Kreis. "I thought they did a really good job of gaining the momentum early in the match."
Rookie Devon Sandoval nearly silenced the crowd just five minutes into the match when his header off a corner kick bounced off the turf and over the crossbar.
In the 28th minute, however, Real Salt Lake seized momentum permanently. When Luis Gil's shot from outside the box wasn't collected cleanly by 'keeper Donovan Ricketts, Findley was right there to pounce on the rebound and put RSL ahead 5-2 on aggregate against the West's No. 1 seed.
"It was huge. That goal turned the game around for sure. They were pressing us a lot in the first 20 minutes. They missed a great opportunity on a corner kick," said RSL 'keeper Nick Rimando.
An early goal could've been huge for the Timbers, and they nearly had one on multiple occasions. A goal was waved off for a foul in the 15th minute; Chris Schuler and Kyle Beckerman each blocked goal-bound shots by Diego Valeri in the 21st minute; and then an offside call negated another potential goal in the 34th minute.
As each goalless minute passed, an already confident Real Salt Lake team knew an MLS Cup berth was within sight.
Leading 1-0 at the half, Real Salt Lake was content to sit back a bit more in the second half and thwart whatever the tiring Timbers threw forward.
"There's enough experience out there that've been through so many critical matches in really difficult places that I think they've been through every scenario possible and they handled it well," said Kreis.
Not surprisingly, the desperate Timbers outshot RSL 18-7, but they lacked the finishing quality necessary to make the visitors sweat.
6
comments on this story
With the victory, Real Salt Lake continue to prove its mettle on the road in elimination games dating back to 2008. Sunday's game was the seventh time RSL's played a cup or playoff elimination-type game on the road. It's now prevailed in six of seven.
That bodes well for its chances in MLS Cup, which will be played in Kansas City.
"Hopefully we go in there; we're confident with a couple good weeks of training; and we just throw it out there, be aggressive how we were tonight and just go for it," said RSL midfielder Ned Grabavoy.