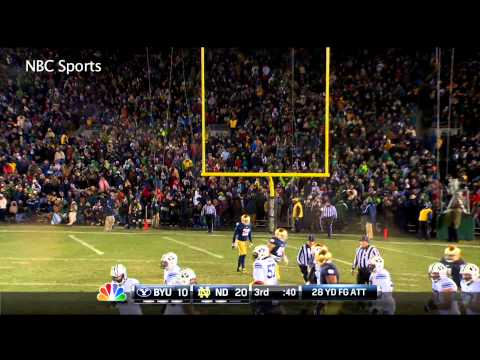 View 12 Items

I'm really disappointed. It's definitely a game we could have won. Any big play they had, it wasn't anything that was a surprise to us. We were just either off the gap or we didn't make the play. Those are things that we need to do to become a great team.

—Craig Bills
SOUTH BEND, Ind. — On the heels of another disappointing defeat on a big stage, BYU will wrap up the 2013 regular season in the so-called "Biggest Little City in the World."
The Cougars, coming off a 23-13 setback at Notre Dame, visit Nevada Saturday (1 p.m. MST, CBSS).
"I feel like we should prepare ourselves a lot better," defensive lineman Eathyn Manumaleuna said after Saturday's loss to the Fighting Irish. "We're going up against another good program. It's another challenge ahead of us and we've got to fix the mistakes that we did (Saturday) and move on."
Saturday's contest will be a homecoming for BYU senior linebacker Kyle Van Noy, a Reno, Nev., native.
The Wolf Pack (4-7), members of the Mountain West Conference, had a bye last week.
BYU (7-4) will be looking to notch its eighth victory of the season. The Cougars will meet the No. 6 selection from the Pac-12 in the Fight Hunger Bowl in San Francisco on Dec. 27.
CBSSports.com's Jerry Palm projects BYU's opponent to be Washington (7-4), which pummeled Oregon State Saturday, 69-27.
The Cougars had won five consecutive games before dropping two out of the last three, with 10-point road losses to Wisconsin and Notre Dame.
"It's hard to swallow because we're so close to breaking through," said senior wide receiver JD Falslev. "We didn't get it done."
Against Notre Dame, linebacker Uani Unga broke Aaron Francisco's school record for most tackles in one season with 125. Unga tallied a career-high 19 tackles.
And safety Craig Bills recorded a career-high 15 tackles. He had 1 1/2 tackles for loss, one pass breakup and an impressive interception in the end zone.
But Bills was looking for a victory in South Bend.
"I'm really disappointed. It's definitely a game we could have won," he said. "Any big play they had, it wasn't anything that was a surprise to us. We were just either off the gap or we didn't make the play. Those are things that we need to do to become a great team."
Meanwhile, Van Noy didn't have one of his better games at Notre Dame. He missed some tackles against the Fighting Irish.
"I think maybe not necessarily what Kyle wasn't doing but Notre Dame was doing — running really hard, running really physical and maybe the next caliber of football team," coach Bronco Mendenhall said of Van Noy's performance.
The Cougars are looking to end the regular season on a high note.
"I'm really anxious to see how we respond this week and just getting back on Monday and respond in a positive way," said running back Paul Lasike, who rushed for a career-high 101 yards against Notre Dame. "I'm looking forward to finishing strong and doing the best that we can."