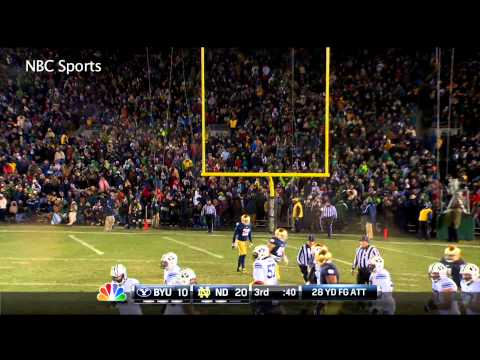 View 12 Items

I've been blessed. A lot of people have been keeping me in good spirits.

—BYU wide receiver JD Falslev
SOUTH BEND, Ind. — Rain, sleet, snow or sun, JD Falslev says he's ready to play.
It just seems the weather keeps getting in his way.
The BYU receiver, who missed two games due to a broken hand, was back on Saturday in the Cougars' 23-13 loss to Notre Dame. He wasn't expected to be back for at least another week. After getting hurt during a team recreational outing — at an indoor surfing facility — he missed the Wisconsin and Idaho State games. But on Saturday he had four catches for 27 yards and BYU's only touchdown.
"I've been blessed. A lot of people have been keeping me in good spirits," he said.
Falslev went on to praise the team doctor and his physical therapist. He wore a protective device on his hand in Saturday's game.
"As long as I know it's not going to hurt me in the long run, I can play through pain," Falslev said. "That's football. I had a covering brace. Then let's just go out and play."
The injury came at a strange time. The Cougars had scheduled a bye-week team activity earlier this month, and somehow he ended up with a broken hand. Falslev wouldn't elaborate on how the injury occurred.
But he came back on Saturday to register two first-half catches, one on a 6-yard gain, the other on a 7-yard scoring pass from Taysom Hill. The latter pulled BYU to a 7-7 tie with 6:48 left in the first quarter.
He added a 7-yard reception in the third quarter as BYU marched toward a field goal, which cut Notre Dame's lead to 20-10.
Falslev was also on the receiving end of a rollout pass from Hill in the late third quarter, good for seven yards. Shortly after, BYU's Justin Sorensen added a field goal to the drive, pulling BYU to a 20-13 deficit.
Comment on this story
The injury came as Falslev was establishing himself as a fine all-purpose threat. He had 241 receiving yards, nine rushing, 230 on punt returns and 25 on kick returns. His punt return yardage led the team. He had one punt return touchdown and now has two receiving scores.
"JD is committed to our program and always has been. He's really tough," said BYU coach Bronco Mendenhall. "To have him back was a nice surprise."
He called the snowy, bitterly cold day — in the 20s, with wind — "the worst conditions I've ever played in, and I've lived in Utah my whole life. But (Notre Dame) had to play in it, too."
EMAIL: rock@desnews.com; Twitter: @therockmonster; Blog: Rockmonster Unplugged