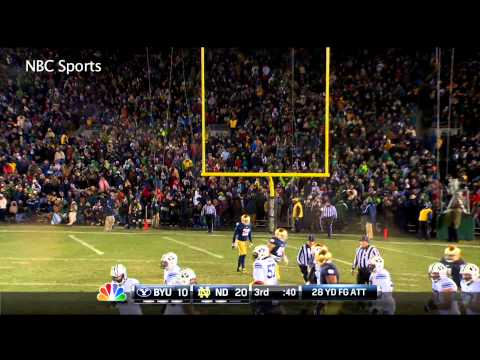 View 12 Items

Whenever I get the ball, it's an exciting thing for me. The line did a good job and I was happy to contribute to the team's progression. … It was a blast to be out there and help out.

—BYU junior running back Paul Lasike
SOUTH BEND, Ind. — The weather conditions certainly didn't suggest that BYU junior running back Paul Lasike would enjoy a career day.
"This is unheard of in New Zealand," Lasike said of the freezing temperatures.
But Lasike turned in his best performance on a football field in the Cougars' 23-13 loss at Notre Dame Saturday. The native of New Zealand braved the cold, windy, snowy weather to rush for a personal-best 101 yards, including a 46-yard gallop in the fourth quarter before he was dragged down at the Fighting Irish 5-yard line.
Lasike also caught an 11-yard pass.
"Whenever I get the ball, it's an exciting thing for me," said Lasike, who is also a BYU rugby player. "The line did a good job and I was happy to contribute to the team's progression. … It was a blast to be out there and help out."
While running back Jamaal Williams gained just 43 yards on 18 carries, Lasike and quarterback Taysom Hill both ran for more than 100 yards. Like Lasike, Hill also finished with 101 yards on the ground.
"I was real proud of Paul," said offensive coordinator Robert Anae. "There were times when Jamaal wasn't making hay, and Paul got a shot to go in there and he ran real physical. I'm really proud to see Paul get physical and have an answer."
Lasike enjoyed running in space, like he did on his 46-yard gain.
"It was weird having corners chase you down," he said. "I thought it was rugby, but I had all of these pads on. I just tried to hold on to the ball and make sure I don't fumble. That's what I was focusing on, trying to get as many yards as possible."
HILL SETS RECORD: Hill passed for 168 yards and rushed for 101 yards, giving him 2,547 passing yards and 1,057 rushing yards for his career. He became the first BYU quarterback to pass and rush for more than 1,000 yards in a season.
Hill is also the 23rd quarterback in FBS history to pass for 2,000 yards and rush for 1,000 yards in a single season.
RUDY ATTENDS BYU FIRESIDE: Rudy Ruettiger, whose story was immortalized in the movie "Rudy" was one of hundreds of people that attended BYU's Friday night fireside at a local stake center.
Ruettiger reportedly is a friend of an LDS bishop, Randy Garn.
Also in attendance was former BYU basketball coach Steve Cleveland, who is currently serving as a mission president for The Church of Jesus Christ of Latter-day Saints in the Indiana Indianapolis Mission.
BABY, IT'S COLD OUTSIDE: Temperature at kickoff Saturday was 26 degrees, with 20 mile-per-hour winds gusting to 35 mph. There were snow flurries throughout the day in South Bend. The wind chill factor was 7 degrees.
"It was the worst conditions I ever played in, and I grew up in Utah," said BYU senior wide receiver JD Falslev. "But (the Irish) have to play in it, too. The weather was a non-factor."
"It was exciting, playing in the snow," said safety Craig Bills. "It was like the Ice Bowl back in the day. It was fun."
Notre Dame officials estimated that those attending the game drank 6,000 gallons of hot chocolate.
NOTES: Announced attendance was 80,795. … Former BYU WR Glen Kozlowski carried out the alumni flag … Notre Dame honored its 33 seniors before kickoff. … BYU is now 2-5 all time against Notre Dame, including 1-5 in South Bend. … BYU is now 9-25 under coach Bronco Mendenhall when scoring less than 24 points.