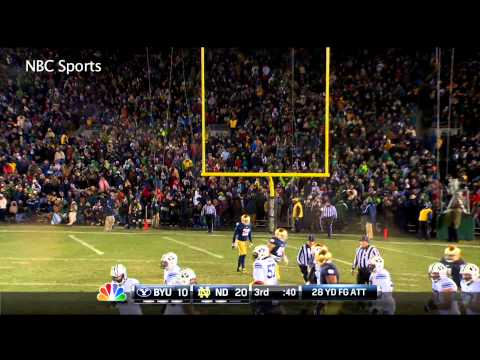 View 12 Items

If we execute, this is a whole different ballgame. That's why it's so frustrating. We continually get down into the red zone and can't score. We go three-and-out after our defense gets a pick. We have to break those chain of events.

—BYU senior wide receiver JD Falslev
SOUTH BEND, Ind. — Standing in the bowels of historic Notre Dame Stadium, BYU senior defensive lineman Eathyn Manumaleuna sported a large black-and-blue bump on his forehead, likely caused by a glistening gold helmet.
His sore noggin told part of the story of the Cougars' 23-13 loss at Notre Dame on a frigid, snowy Saturday afternoon before a crowd of 80,795.
In short, the Fighting Irish (8-3) controlled both sides of the line of scrimmage, while BYU (7-4) made too many mistakes.
The Cougars' deficiencies included missed tackles, dropped passes, blown assignments and a punchless performance in the red zone — which has become a familiar theme this season in their four losses.
"If we execute, this is a whole different ballgame," said senior wide receiver JD Falslev, who played in his first game since fracturing his hand during a bye week in late October and scored his team's only touchdown. "That's why it's so frustrating. We continually get down into the red zone and can't score. We go three-and-out after our defense gets a pick. We have to break those chain of events."
In four trips into the red zone, BYU, which rolled up 415 yards of total offense, scored just 13 points.
"I believe we didn't score enough points on offense and that is the reason we lost this game. … We did not live up to what we came here to do," said offensive coordinator Robert Anae. "We've got to get better coaching in the red zone; we've got to get better playing in the red zone."
"When it came down to a manageable number of points to actually win the game," said coach Bronco Mendenhall, "23 we thought would keep us right in it, which it did."
Twice after reaching the red zone in the third quarter, BYU settled for two Justin Sorensen field goals, and the Cougars had one field goal attempt in the fourth quarter blocked after having first-and-goal at the Irish 5-yard line.
BYU couldn't take advantage of Paul Lasike's career-best 46-yard run from scrimmage, which gave BYU the ball just 5 yards away from the end zone with a chance to cut the deficit to 23-20. On third-and-goal, quarterback Taysom Hill ran the ball, but could pick up only 2 yards before being swarmed under by the Irish defense.
Notre Dame coach Brian Kelly credited his players, and defensive coordinator Bob Diaco, for keeping the Cougars out of the end zone over the final three quarters.
"We gang-tackled," Kelly said. "We did a very good job and I thought Coach Diaco hit some very good calls down in that short zone area where we were able to come up with big stops."
Like at Wisconsin two weeks ago, BYU suffered another disappointing 10-point loss on a big stage.
"A few opportunities that we didn't make and a few Notre Dame did make," is how Mendenhall summed up the game. "Notre Dame earned the win."
The Irish ran for 100 yards more than their average for the season, a total of 235 yards. Running back Cam McDaniel rushed for 117 yards and DaVaris Daniels caught six passes for 107 yards.
Why all the defensive breakdowns?
"It could be the latter part of the season," Manumaleuna said. "Guys are kind of hurting, the weather. There really shouldn't be excuse to be missing all of these assignments and gaps to stop the run. But it happened. It's a tough game."
The game's tone was established early.
On BYU's first series, wide receiver Cody Hoffman dropped a pass that stalled a drive in Notre Dame territory. Then, the Cougars had a chance to send the Irish offense off the field on their first drive, as linebacker Kyle Van Noy knifed into the backfield and grabbed running back Tarean Folston. But Folston broke the tackle and gained a first down.
One play later, Irish quarterback Tommy Rees threw a 61-yard touchdown strike to a wide-open Daniels to put Notre Dame up early, 7-0.
BYU's starting cornerbacks, Mike Hague and Robertson Daniel, did not start. Hague was dealing with a groin injury and Daniel was sick. After the Cougars surrendered that long touchdown pass on Notre Dame's first series, Daniel came into the contest.
Not long before kickoff, "Daniel became very, very ill," Mendenhall said. "He was getting IVs and different things. He received not only medical care but ecclesiastic care right before the game, and it didn't look like there was much chance that he might play."
After Notre Dame's TD, BYU responded with a 12-play, 71-yard drive that was capped by a 7-yard touchdown pass from Hill to Falslev.
The Irish scored on their next series, as Folston had a 2-yard touchdown run. At that point, Notre Dame led, 14-7.
In their final two series of the half, the Irish kicked a 26-yard field goal after moving inside the Cougar 10, and BYU stopped Notre Dame on the Cougar 24-yard line with 27 seconds left in the half. Hill threw an interception on the final play of the half on a Hail Mary heave into the end zone.
At intermission, the Irish led 17-7.
On the first play from scrimmage in the second half, Folston burst through the line for a 43-yard gain. Kyle Brindza ended up booting a 26-yard field goal and Notre Dame extended its lead to 20-7.
Sorensen kicked a 31-yard field goal to cut the deficit to 20-10, then a 27-yarder to make it 20-13.
But the Cougars needed touchdowns to beat Notre Dame, not field goals.
Bills intercepted Rees in the end zone with 12:08 remaining in the game, ending a long Irish drive.
"They were setting that up all game," Bills said. "When they showed that look, I saw the tight end come upfield and I just made a play on the ball."
But the Cougar offense couldn't capitalize. It punted after five plays, giving the ball back to the Irish.
Meanwhile, Brindza drilled a 51-yard field goal with 6:53 remaining to essentially put the game out of reach.
BYU visits Nevada next Saturday in its regular-season finale.