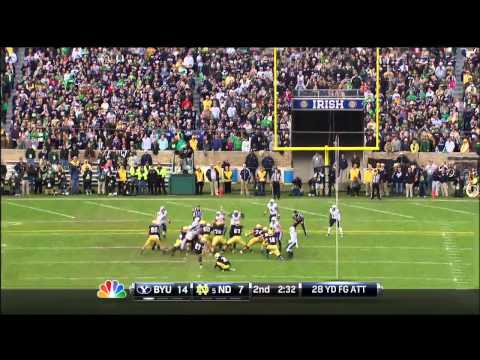 View 2 Items

Probably not, from their point. There would probably have to be a number of wins, maybe consecutive wins. Notre Dame has a lot of teams that would love to play them, and we're fortunate to get that opportunity. We have to do our share of winning.

—BYU coach Bronco Mendenhall, when asked this week whether a win would qualify BYU-Notre Dame as a rivalry game
SOUTH BEND, Ind. — In its WAC and Mountain West days, BYU had a lot of rivals.
For instance, oh, everybody.
That's because the Cougars dominated their conference much of the time. There were rivals such as Utah and TCU, but also whenever BYU played Hawaii there would be talk of a Cougars-Rainbow Warriors grudge game. Similar things occurred at Wyoming, Air Force, Colorado State, etc.
It was almost everyone's biggest game.
BYU players were delicate in response to such matters, saying it was definitely a big game against fill-in-the-blank.
(Eye-roll here.)
Could it be the shoe is now on the other foot?
Even though Saturday's BYU-Notre Dame game will be the eighth between the schools, to call it a rivalry is a stretch. No less authority than Bronco Mendenhall agreed when asked this week whether a win would qualify it as a rivalry game.
"Probably not, from their point," Mendenhall said. "There would probably have to be a number of wins, maybe consecutive wins. Notre Dame has a lot of teams that would love to play them, and we're fortunate to get that opportunity. We have to do our share of winning."
It's inevitable there would be BYU-Notre Dame comparisons, especially after BYU left the Mountain West. Both are religious universities with an honor code, both are independent in football and both have a soft spot in their hearts for "Hail Mary's."
Notre Dame has its campus cathedral and BYU has Jim McMahon's pass in the 1980 Holiday Bowl.
Mendenhall has said he would love to play the military academies as often as possible, while Notre Dame annually schedules games against Army/Navy/Air Force.
With both BYU and Notre Dame having scheduled multiple future games with Stanford and USC, it has been jokingly suggested the Cougars and Irish be "travel partners."
Not so fast, Shamrock Breath.
Notre Dame recently signed a deal to play five Atlantic Coast Conference opponents a year. Throw in annual games with teams such as Stanford, USC, Michigan State and Purdue and there isn't much scheduling space left.
Still, the Cougars can always hope. BYU and Notre Dame have agreed to play four more times, though it's possible the Irish will buy out of some of those.
Would that kill a budding rivalry?
"Pretty much everybody is our rival," said Carrie, a Notre Dame fan from Pennsylvania, as she stood snapping pictures near the stadium's field entrance on Friday.
But isn't it kinda special? The Cougars and Irish are meeting Saturday for the eighth time. Notre Dame leads the series 5-2.
"It's another week," Carrie continued. "The really big weeks are Michigan and USC."
A sampling of fans at Notre Dame Stadium on Friday concurred with Carrie's impression.
"It's just another game," said Phillip, from Ohio. "The rivalry is USC and Michigan and Navy. Those are the ones."
In the minds of many Notre Dame fans, BYU falls under the Department of Intriguing Ideas.
"I think it could turn into a traditional rivalry, two independent teams going at it each year, " said Dusty, who drove from Pensacola, Fla., to South Bend. "It could be something that turns into great rivalry. This is where it all starts."
3
comments on this story
Rich, from New Jersey, went retro when he said, "I don't think it's a rivalry yet, but as someone pointed out, that basketball game with Danny Ainge going the full length of the court to beat them — as a Notre Dame fan, you never forget."
Apparently not.
But if anyone struck a Bronco-ish chord on the subject, it had to be Josh, from Minneapolis, as he stood outside the famed Knute Rockne gate.
"I don't think they quite have the history yet to be a rivalry," he said. "It could be on the way, but not yet."
He called them "great programs that are not only independent, but really rooted in not just academics, but a common value system, as well."
Common football profiles?
They're working on it.
Email: rock@desnews.com; Twitter: @therockmonster; Blog: Rockmonster Unplugged