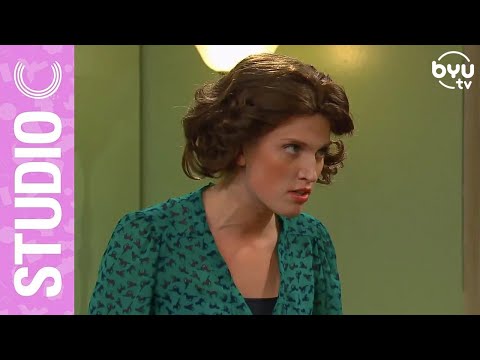 View 16 Items



When Matt Meese approached Jared Shores with an idea for a new sketch comedy series in 2011, Shores admits he had his doubts. But after watching Brigham Young University's Divine Comedy troupe perform on campus, BYUtv's creative producer saw potential for something new and humorous.
"I was expecting something completely different, something more hokey, more zoobie," Shores said. "To my surprise, it was very intelligent. They didn't hold back, which I thought was impressive. They were making fun of so many things on campus that I wanted to make fun of on campus. I thought, 'Oh, these guys aren't scared.' They had a sense of individualism that I hadn't seen."
Two years later, following countless hours of brainstorming, hard work and laughter, "Studio C" is thriving in its third season as it pokes fun at awkward, funny, scary and overall hilarious human experiences. The BYUtv sketch comedy series featuring Whitney Call, Mallory Everton, Jason Gray and Meese and other cast members recently released seasons one and two on DVD.
"We all came together on this same ground, recognizing we work well together, write well together and could make this a legitimate business that could carry out to a broader audience," Call said.
New sketches air each Monday at 8 p.m. on BYUtv. Full episodes from seasons one, two and three can also be viewed on byutv.org.
The show, which has nearly 60,000 likes on Facebook and 21.3 million views on its BYUtv YouTube Channel, aims to produce clean, family-oriented comedy for a national audience. As a result, it has been embraced by thousands of fans, including the Brad and Tara Poll family in Syracuse, Utah.
"It's the only show on TV that we watch together and anticipate the next week's episode. The kids love to laugh. 'Tomato bisque' is quoted daily, as is 'Balance restored!' " said Tara Poll, whose five young children consider the cast members to be superstar celebrities. "The show is funny — good, clean funny. I love having entertainment that is appropriate and fun for the entire family."
"At least one skit per show gets us laughing out loud," said husband Brad Poll.
That's exactly what Meese envisioned in the beginning.
"I was definitely hoping families would grab ahold of it and have this shared experience," Meese said. "My family grew up watching the 'Cosby Show.' I remember sitting in meetings thinking I want this to be like that, where families are quoting this years from now and laughing about it together. I'm excited that that seems to be happening."
While recently promoting their DVD, core cast members Everton, Call, Meese and Gray, as well as Shores, spoke with the Deseret News about the show and its success.
Deseret News: What is it like to be a BYUtv celebrity?
Mallory Everton: "The people you are close to in your life think you are still the same idiot as always. The weirdest is when I've been walking around with my family and I get recognized by somebody and they're like, 'Why do they even care about you at all?' They (my family) are kind about it, but I can tell they think it's hysterical. … I don't feel like I deserve the attention."
Matt Meese: "I have to be more aware of the fact that maybe I don't look as well-kept as I need to. If someone takes a picture, that's going up (online) and oh, look, Matt's wearing his pajama pants in public again."
Jason Gray: "I like it when my mother-in-law comes to town and people stop me. I was going to be a dentist and obviously I didn't go that route, so she was probably a little disappointed. 'Oh my daughter married this actor.' But then she notices (the fans) and oh, this is like a legitimate deal. I think it brings her a little more pride and contentment with her son-in-law's career choice."
DN: Are you surprised by the show's success?
JG: "Yes, especially by families. We didn't set out to write this show that families would embrace. I thought college kids would like it, then maybe a few families, but it's really been families that have embraced the show."
ME: "It makes sense to me that we would get a strong response (from families) because there aren't a lot of people trying to do this sort of thing — comedy that is open to everyone. Pixar is a good example of an institution that has managed to have a really broad audience. It's very rare to find a comedy series or group that is trying to keep things broad like that. It makes sense, but still surprising."
DN: The "Studio C" cast is essentially made up of members of the 2011-12 cast of "Divine Comedy," so the cast is well acquainted. What do you remember about the first time you met each other?
JG: "I came down from BYU-Idaho and didn't know 'Divine Comedy' was such a big deal. I went in thinking it was a small club and was blown away because there was about 300 people watching auditions. … I didn't make the group at first and I was really bummed. I was like, I'm going to go see a movie and forget about it. And no joke, I sit down in the theater and the whole group walks in. I thought, 'You have got to be kidding me!' "
DN: What has been the biggest challenge along the way?
Jared Shore: "It's been a different challenge each season. The show has three different elements: pre-production (writing, finding right individuals, prepping the technical aspects), production and post production (edit it all together, package it up, make sure it has a nice finish on the end to air). We've struggled early on in the aspect of how the organization of the show works. No one in the area had done a show like this before. No one had a lot of experience with comedy, let alone a sketch comedy show. Everyone is trying to figure out how to pull this thing off right. Right now we're prepping for the fourth season. We are constantly trying to think of new ideas. It's a juggle, even after you shoot something. Your work is never done."
ME: "I had a dream about us having a writer's meeting. … You don't get to breathe a sigh of relief until it is done, because you can still add jokes in editing. Working on that many things at once can make you a little batty, but it's still cool."
JG: (Responding to a reference to the 2010 movie, "Inception") "I wish somebody would come plant some ideas for funny sketches in my mind."
DN: How are you able to come up with funny, clean material without resorting to crudeness?
Whitney Call: "We write things we laugh at. … We started out making sure it was clean. In our campus group, it was geared more toward the experiences of our college audience, BYU and the culture in Provo. As soon as we took it to 'Studio C,' it became very clear, we wanted this to be a show where Mormons and non-Mormons alike could watch every sketch, understand every joke, and be able to share it with everyone they knew. At that point, it wasn't a struggle for us to make sure jokes were clean or kind because we had been raised on that kind of writing. Instead it was how can we make this person on the East Coast who doesn't even know what a Mormon is watch this and not feel like it's a niche humor kind of thing. It's been beneficial for us to see how many people we can reach. Matt has a friend whose brother is in prison and his favorite show is 'Studio C.' You know you are reaching a wide demographic if your grandma back home or someone in prison both can watch the same show and like it."
ME: "Our audience taught us to be clean. 'Divine Comedy' was great preparation for this. There are some jokes the audience doesn't like and if you go too far, there is an awkward feeling in the room, followed by the uncomfortable laugh. We learned early on we want to make people laugh and have a good time with no shame. … Ultimately, we can't please everyone. It's definitely a balance, we try to follow our compasses and keep each other in check. Someone will always be offended, have problems with it, we can't do anything but what we feel good about. … I imagine kids don't understand a lot of the jokes. We never feel like we are writing for kids, we are just trying to write stuff that if kids saw, their parents wouldn't make them leave the room. That's kind of the point."
MM: "I think kids love something they can watch with their family. Even if they don't get the joke, they hear their family laughing and they'll laugh too. They share the experience."
JG: (Laughing in response to not pleasing everyone) "It's like when Joseph Smith was playing with his kids and a guy left the church because he thought a prophet shouldn't have fun. I feel like there's people who say 'BYUtv shouldn't have fun, that's wrong, there should only be 'Little House On The Prairie.' "
DN: What is the best feedback or comment you have received from a viewer?
MM: "There was one family whose children wanted to attend a taping of 'Studio C' instead of taking a trip to Hawaii. The mother said no. But she requested a signed photo. We sent them some stuff and she filmed them opening it up. They freaked out and were really excited. That really made my day."
ME: "I got a personal Facebook message from someone on East Coast, a non-Mormon. This person had been watching the show and was impressed. Watching the show had changed his opinion of Mormons. I was like, 'Yeah!' That meant a lot to me to hear that someone was starting to feel that Mormons are more normal than they thought."
WC: "I got an email from a teenager in the church. She talked about how she could use the show to talk to people about the church, whereas before it was hard to talk about being Mormon. Seeing the show made her proud to talk to people. I thought that was really great to use that as a missionary tool."