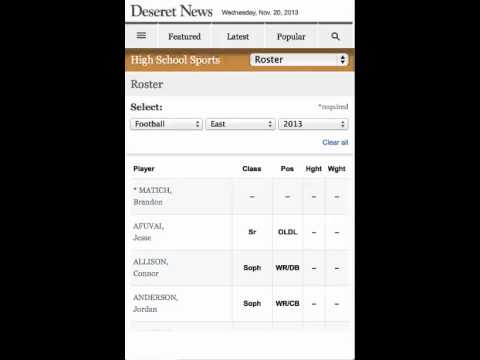 View 2 Items

SALT LAKE CITY — Deseret Digital Media released a mobile-friendly version of its DeseretNews.com high school sports database product Wednesday.
The mobile device-friendly site, available immediately, provides a more user-friendly experience to anyone seeking information regarding Utah high school sports scores and statistics.
DeseretNews.com product director Nate Barrett said the new mobile-ready version of the DeseretNews.com high school sports database product is the next step in bringing a real-time, contextual experience to high school sports fans in Utah.
"More and more, sports are becoming a two-screen experience where people are sitting down in their living rooms and watching something on television, and at the same time they're on their iPhone or iPad checking up on the latest scores," Barrett said. "The primary goal is to allow our audience of high school sports readers to access the content that they want when they're at the venue. Having a real-time, contextual experience much like you do in a college or a professional sports environment, I think, is the goal that we'd like to provide from a high school sports standpoint."
The new digital product, at its core, is the same product that is presently available in the high school sports section of DeseretNews.com. The principal differences between the two products, however, are found primarily in how the data is presented.
The mobile high school sports product is designed specifically for mobile devices and tablets. All content is appropriately sized for mobile devices, and the location of the various menus and categories available throughout the product has been modified to account for the different ways readers browse mobile sites.
Barrett said the release of the mobile product is very timely considering the important high school football games that will be played over the next two weeks. DeseretNews.com will stream the 1A, 2A and 3A championship football games this weekend in addition to the 3AA, 4A and 5A semifinals. In addition, DeseretNews.com will offer a live play-by-play service for every high school football game this weekend.
"There's a lot of excitement around the semifinals this weekend and the finals next weekend," Barrett said, "and there's some really good matchups taking place. It's really good timing for the high school playoffs and for girls and boys basketball. We're excited to be able to provide this now."
The Deseret News has maintained high school scores and statistics in an easy-to-access database on its website for more than a decade. Barrett says the information contained and maintained by the Deseret News Sports Department as well as the DeseretNews.com Web sports team has been critical to the growth of DeseretNews.com over the years.
"Whether it's viewing streaming content of games that we're doing through our WatchIt! partner and UHSAA or catching up with the scores from a mobile device or coming onto our desktop site for that information, it's definitely become the place to go in the state of Utah for high school sports, more so than anywhere else," Barrett said.