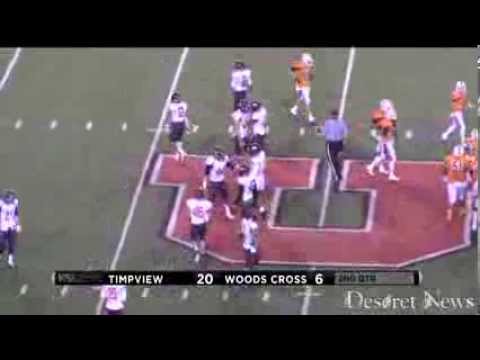 View 2 Items

It's as good of a group as I've coached with how they play together, complete their assignments — it's just a really, really good group at every position and it's everyone that makes it work. Not just one, two or three specific players.

—Timpview coach Cary Whittingham, on the T-Birds' defense
PROVO — Timpview coach Cary Whittingham politely declines to highlight any particular player or position group within his defense when asked.
The second-year coach won't play ball, and for good reason.
The reason, as he accurately explains, is there's really no position group stronger than the other and each player is indispensable.
"It's one unit, and I prefer to talk about them as one unit," Whittingham said. "It's as good of a group as I've coached with how they play together, complete their assignments — it's just a really, really good group at every position and it's everyone that makes it work. Not just one, two or three specific players."
It indeed takes a complete effort from everyone to play as dominant as Timpview's defense has this season.
The T-Bird defense hasn't allowed more than 20 points to any opponent since Alta dropped 28 on it the third week of the season. Seven of Timpview's final 10 opponents failed to reach double-digits on the scoreboard.
"We've had a good run and the players have really focused on improving with every week, and I think we have improved with every week," Whittingham said.
Whittingham's stellar defense begins along the defensive front where players such as Isaiah Nacua, team captain Gabriel Reid, Devin Kaufusi, Max Anae and TJ Anderberg all see significant contributions.
"Everyone has their own individual assignments up front, and everywhere else, but we play as one," Reid said. "Isaiah is an amazing player, but he couldn't do what he does without everyone doing their job."
At linebacker, the leaders are Pio Stowers, team captain Emmet Tela and Kainoa Tu'ua.
"Our linebackers have been huge for us all year," Reid said. "They make plays and we always know they'll be where they need to be behind us, so that helps us and it helps the secondary."
The starters in the secondary include Isaiah Holloway, Tyus Moe, Hasting Madsen and Tegan Christiansen.
"Our secondary has some good athletes," Whittingham said. "I think some people may look at our front seven and our strength up there, but we have guys that are athletic and really quick to the ball."
Timpview's stellar defense will likely face its biggest test of the year this Friday against East in the 4A state championship game. The game kicks off at 11 a.m. at Rice-Eccles Stadium, with the marquee matchup looking to be East's punishing and physical offense against the T-Bird defense.
"We know what East can do offensively and that's going to be a good test for us," Whittingham said. "We're excited for the challenge, and I think my guys will be up for it. But we have to have a good week in practice and we won't be taking East, and what they can do, lightly — that's for certain."
Email: bgurney@desnews.com
Twitter: @BrandonCGurney