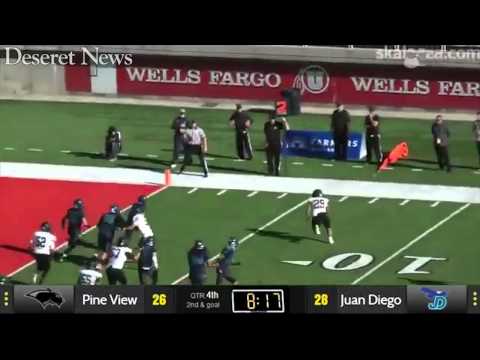 View 2 Items

This is a new year and a new bunch of young men and we truly believe we have an excellent chance to win Friday. We had some matchup problems in those other games and, I'll tell you, those were some amazing teams we lost to.

—Pine View coach Ray Hosner
ST. GEORGE — Pine View coach Ray Hosner has heard the whisperings. He knows how people talk. He's heard them say that Pine View can't win the big one.
None of that matters to him or his team.
"This is a new year and a new bunch of young men and we truly believe we have an excellent chance to win Friday," he said. "We had some matchup problems in those other games and, I'll tell you, those were some amazing teams we lost to."
Those "other games" were Pine View's three championship game losses in Hosner's tenure. The Panthers are 0-3 in the title game since the New York native took over as head coach. In 2004, Pine View lost to Bear River and Jason Zundel 47-14. In 2005, the Panthers fell to Logan and Riley Nelson 56-21. The '07 game saw Pine View move up to 4A and play Timpview, only to fall big, 50-7.
That 2007 Pine View team was 13-0 going into the championship game and had beaten its seven 3A opponents by an average score of 42-10. Many Pine View fans felt like a 3A title would have been a cakewalk that year, but the bump up to 4A cost the Panthers a title. The same could be said for the next season, when Pine View went 10-2 with both losses coming to Cottonwood, including a 19-14 heartbreaker in the 4A semifinals.
So naysayers can point to the Panthers as being a team that lost some big games. But it should also be pointed out that Pine View has made the playoffs in 11 of Hosner's 13 years, making at least the quarterfinals in nine of those years.
"We took a big hit when the schools split and Desert Hills was created," Hosner said. "Us coaches had to do some things, including coaching the younger boys. I've been Kody Wilstead and his group's coach since eighth grade. But now our program is back where we feel we belong."
So the Panthers are back in the title game for the fifth time in program history (Pine View lost to Uintah in the 1994 3A championship, seven years before Hosner took over). So how will this one be different?
"We feel like we were out-manned in a couple of those games, and that's not the case this year," he said. "That's no disrespect to Desert Hills. They're a fantastic team. It should be a great game between two pretty evenly matched teams, just like our game earlier this year."
In that first matchup, back on Sept. 27, Pine View eked out a 16-10 win with Kody Wilstead scoring on a keeper from the 4-yard line with 2:45 left in the game. The Panthers had trailed 10-3 midway through the fourth quarter when Colton Miller returned an interception 22 yards for the tying score.
"For those that didn't think we could win tonight, well it sucks for them," Miller said after that game. "We have a lot of heart and never stopped believing in ourselves."
It showed last week as well as the Panthers scored with one second left in the game to force overtime against previously undefeated Juan Diego. Triston Duran broke four tackles en route to the critical late-game touchdown.
"The ball was in the air and I was just hoping I'd catch it," said Duran, who has played the last month with a separated shoulder injury. "I knew I was going to get hit, but I had no idea they'd bounce off of me like that. I think they mostly just hit each other. But one of them did get my shoulder. The last guy I didn't even see until the last second. It was just reaction. I just jumped."
Pine View tied the game on a two-point conversion and then won it in overtime.
"I was completely exhausted after that game," Wilstead said. "Juan Diego's a great team. But I'm so proud of my teammates for all the great plays they made. Our offensive line was amazing."
Maybe the Panthers already passed the test, as far as big games go, with that win against Juan Diego. It was certainly a game they could have lost, trailing by 14 at halftime and by eight with just seconds left. But this time, Pine View made the biggest plays when they needed to be made.
"What an incredible game that was," Hosner said. "Football's a team effort, and they all did a great job. There's no quit in any of them."
Season-ending games for Pine View since 2001
2001 — 3A quarterfinals, lost to Park City, 31-28
2002 — 3A quarterfinals, lost to North Sanpete, 20-0
2003 — 3A quarterfinals, lost to Morgan, 25-20
2004 — 3A championship, lost to Bear River, 47-14
2005 — 3A championship, lost to Logan, 56-21
2006 — No playoffs, lost to Hurricane, 31-21
2007 — 4A championship, lost to Timpview, 50-7
2008 — 4A semifinals, lost to Cottonwood, 19-14
2009 — 4A first round, lost to Spanish Fork, 33-25
2010 — 4A quarterfinals, lost to Highland, 48-44
2011 — No playoffs, beat Snow Canyon, 28-22
2012 — 3A first round, lost to Spanish Fork, 26-21
2013 — 3AA state championship vs. Desert Hills
Andy Griffin is a southern Utah broadcaster and sports writer and has been involved in covering sports in Utah, including professional, college and high school sports, since 1989. He is the sports editor at STGNews.com.