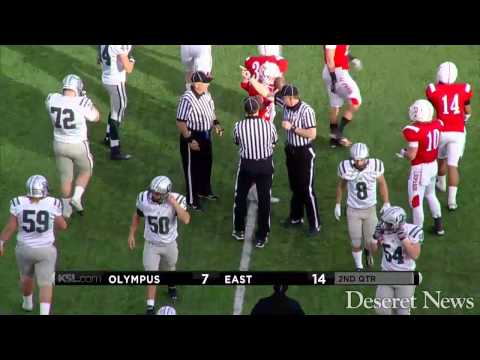 View 2 Items

Malakai is a physical runner that doesn't look like a physical runner. He's got strong, churning legs. He's a very strong kid. If you relax on him he'll pop you. Even with me in drills; he's physical with me in blocking drills. He's more physical than any of the other backs.

—East coach Brandon Matich, on Malakai Solovi
SALT LAKE CITY — According to Greek mythology, Hydra was a serpent that terrorized citizens with its poisonous breath and blood. Whenever a warrior attempted to behead the monster, it sprouted two additional attacking heads.
Defenses have experienced the same complications stopping East's multifaceted rushing scheme. Stack the box for Ula Tolutau, and Preston Curtis is waiting. Focus on Curtis, and quarterback Isaac Valles tucks and runs.
Slice all three heads, and Malakai Solovi sprouts.
"Malakai is a physical runner that doesn't look like a physical runner," said East coach Brandon Matich, whose team plays Timpview in the 4A state championship at Rice-Eccles Stadium Friday. "He's got strong, churning legs. He's a very strong kid. If you relax on him he'll pop you. Even with me in drills; he's physical with me in blocking drills. He's more physical than any of the other backs."
Solovi has rushed for 796 yards and nine touchdowns while adding 330 yards and four touchdowns on 15 receptions. Defensively, he's tallied 35 tackles and seven interceptions.
"If I were to scout Malakai, I'd probably pray," assistant coach Mo Langi said. "I don't know how to scout him, especially when you've got those other guys out there.
"He was out for a while, but he worked every day," Langi said in reference to Solovi's knee injury last season. "He was there at practice, stretching and doing everything the trainer had him do. All the kids could see his work ethic, most kids would sit there on the side and walk around and let it heal — that kid really worked. He has some kind of drive in him, and it's awesome to see."
Solovi didn't score until the fifth week of the season when he scored twice against Highland. Perhaps his finest game occurred against Cyprus when he scored four times, including an 84-yard run in the third quarter. The combination of the mildly slow start and the camouflage provided from his highly touted teammates created unintentional motivation.
"Ride with my brothers; die with my brothers," Solovi recently told Deseret News writer Conner Johnson when an opposing coach referred to East as a three-headed monster. "When coach told me that they were saying no, I can't do nothing, the only thing that came to my head was 'kill everyone that gets in my way.' "
Solovi finished with 147 yards and two touchdowns on only seven carries along with a 60-yard touchdown reception that night. The emotion eventually subsided and Solovi explained that winning Friday is all that matters.
"It really just matters how our team does. We're trying to win state," he said. "It's a team game — it all comes down to the O-line and the backs working hard. If they get the attention; it doesn't matter — they can have it."
Email: tphibbs@deseretnews.com
Twitter: @phibbs_