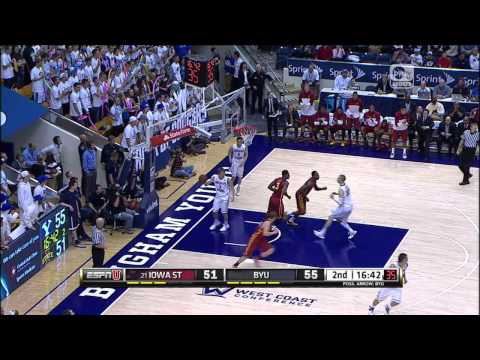 View 42 Items

We knew we had a chance to win. We didn't make the plays we needed to.

—BYU guard Tyler Haws
PROVO — The calendar said November, but it felt an awful lot like March.
In a physical, fast-paced game that featured plenty of drama, a wild finish, an ejection, and an injury to freshman Eric Mika, No. 21 Iowa State edged BYU Wednesday night at the Marriott Center, 90-88, as the Cyclones handed the Cougars their first loss of the season.
"We knew we had a chance to win," said BYU guard Tyler Haws, who scored a team-high 20 points. "We didn't make the plays we needed to."
BYU's Kyle Collinsworth attempted to send the game into overtime, but his jumper failed to draw iron just before the final buzzer sounded. With five seconds remaining, Haws also had a chance to tie the game, but his shot was blocked by Daniel Edozie.
"We had quite a few chances at the end to win the game," said Cougar coach Dave Rose. "It was a real winnable game for us, and we came up short."
The Cyclones (4-0) rallied from a 12-point first-half deficit and shot nearly 58 percent from the field in the second half. Melvin Ejim and DeAndre Kane both scored 21 points for Iowa State. Kane also grabbed 11 rebounds.
BYU (4-1) shot only 38 percent from the floor in the second half and just 12-of-20 from the free throw line for the game.
Iowa State outrebounded the Cougars in the second half, 27-17.
"They got a lot of boards in the second half, a lot of offensive rebounds for buckets," Haws said.
Rose said that Iowa State's putbacks "broke our spirits."
In the waning minutes, the Cougars certainly missed their freshman star, Mika, who scored 17 points and pulled down nine rebounds.
With 3:28 remaining, and the Cougars trailing, 82-77, Mika was jabbed in the eye by Kane, who was whistled with a flagrant 2 foul and was ejected. Mika, meanwhile, lay on the floor writhing in pain for several minutes before he was taken to the locker room.
"Eric will go have a scan to check his right eye," Rose said. "Right now it's kind of up in the air for a couple of hours."
A flagrant 2 personal foul involves contact with an opponent that is not only excessive but also severe or extreme while the ball is live. In a statement after the game, the officials briefly explained Kane's ejection: "In this situation we deemed the foul to be severe or extreme."
Haws hit two free throws in place of Mika, then hit two more on BYU's ensuing possession to cut the deficit to 82-81. But the Cougars weren't able to regain the lead.
Georges Niang made three straight field goals to push Iowa State's advantage to 88-83 with 1:20 remaining.
Frank Bartley IV and Anson Winder each missed a free throw in the final 1:11.
After Haws had his shot blocked with five seconds left, he fouled Daniel Edozie, who went to the free throw line with 3.2 seconds remaining. Edozie missed his first free throw, then banked the second one in.
Rose told a referee he wanted to call a timeout after the free throw. But Nate Austin inbounded the ball quickly after the made free throw, and Collinsworth's shot was off target as time expired.
Also in the game's closing minutes, Ejim made an obscene gesture toward the crowd after fouling out of the game.
"Definitely lost my composure today," Ejim expressed via Twitter afterwards. "I apologize to the (BYU) student section and Iowa State University. What I did was inexcusable and rude."
Though Iowa State seized an early 9-4 lead, Mika set the tone early, scoring BYU's first six points on 3-of-3 shooting from the field. A 3-pointer by Haws tied the game at 9-9, then the two teams traded baskets.
Ejim picked up two fouls in the first eight minutes, but still managed to score a team-high 13 points in the first half in just 12 minutes of action.
Matt Carlino, who finished with 19 points, knocked down three straight 3-pointers to spark a 19-6 run that was capped by an alley-oop by Carlino that resulted in a thunderous dunk by Mika.
At that point — with the crowd of 15,808 energized and the Cougars leading 36-24 — it appeared BYU was poised to run away with the game. But the Cougars missed their next five shots and the Cyclones battled back.
Ejim nailed a pair of 3-pointers in the final two minutes of the half and Iowa State pulled to within 43-42. Haws and Carlino scored back-to-back buckets as the Cougars held a 47-42 advantage at halftime.
Mika, Haws and Carlino each had 12 points going into the second half.
BYU faces Texas on Monday (5:30 p.m., MST, ESPNU) at the Sprint Center in Kansas City as part of the College Basketball Experience Hall of Fame Classic.