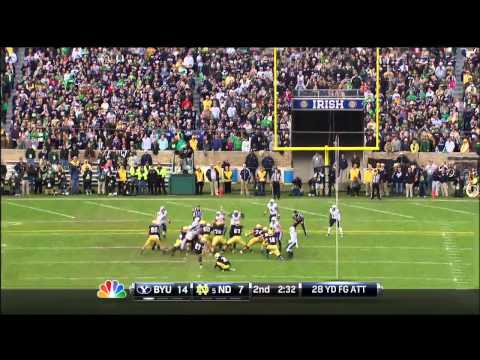 View 5 Items

We knew that we were competing in that game the entire time last year. We all remember it, those that were here last year. It's in the back of our head. We want to prove that we should have won that game. There's only one way to do it — go out and play our hearts out on Saturday.

—BYU offensive lineman Ryker Mathews
PROVO — The way BYU players and coaches see it, they squandered a golden opportunity to pick up a huge road victory last October under the Golden Dome.
The Cougars fell to then-No. 5 ranked, undefeated Notre Dame, 17-14, before a sellout crowd of 80,795 at Notre Dame Stadium.
BYU returns to South Bend, Ind., Saturday (1:30 p.m., MST, NBC) for a chance at redemption.
"We knew that we were competing in that game the entire time last year," said Cougar offensive lineman Ryker Mathews. "We all remember it, those that were here last year. It's in the back of our head. We want to prove that we should have won that game. There's only one way to do it — go out and play our hearts out on Saturday."
While BYU had plenty of chances to upset the Irish, at least one play stands out.
Midway through the fourth quarter, Cougar wide receiver Cody Hoffman had gotten past the Notre Dame secondary, and was by himself deep in Irish territory. Quarterback Riley Nelson, who was scrambling, spotted Hoffman, but Nelson's pass was off target, and fell short. Had Nelson been able to make an accurate throw, Hoffman likely would have scored and that would have put BYU ahead, 21-17.
"That throw will probably haunt me until I die," Nelson said after the game.
Notre Dame coach Brian Kelly, when asked about that play, said he watched it again this week.
"Certainly, a big play during the game," Kelly said. "But I think there were some other plays in the game, missed opportunities, really on both ends. But I certainly do remember that particular play."
Which play does BYU linebackers coach Kelly Poppinga remember most?
"The one where we had (the Notre Dame running back) wrapped up on third down, then ran 80 yards," he said. "We actually watched that clip (the players Tuesday), just showing what kind of effort it's going to take (to beat Notre Dame)."
The Cougars led 14-7 at halftime, then were outscored, 10-0, in the second half.
"Our guys were super-disappointed after that game because they felt like they had a great chance to win," Poppinga said. "They didn't come out as good as they know they should have. They know that."
Poppinga is hoping that BYU's players will learn lessons from last year's experience.
"They need to come out with an edge and a confidence that they are a great defense, which they are," he said. "It's a great offense and great opponent in Notre Dame. It has to be an attitude where we come out from the very first play and be tough and physical. If we do that, we'll give ourselves a great chance. It can't be lukewarm. It has to be all the way in."
Last Saturday, BYU coach Bronco Mendenhall said of last year's contest at Notre Dame: "I don't remember many games, but I remember that one. So I'm looking forward to going back."
"It's definitely stuck with us because we easily could have won," Hoffman said. "Knowing that we could have and should have beat them, it's nice to be able to go back this year and hopefully get revenge."
For Notre Dame, facing opponents each week that are highly motivated to win is nothing new.
12
comments on this story
"I think those things are, and they have always been, for me, secondary," Kelly said. "I think they have always been handled intrinsically by the players that you have. It doesn't mean I'm not good for a motivating talk or two. But I think that the players that you have, the leaders that you have, and the way you play the game, certainly dictate that much more than past history and motivation. Doesn't mean I don't discount it, but I don't see it as primary. I think the primary is the drive, the pride, the intrinsic motivation to want to win nine games, has got to be primary. Not, 'Hey, let's be ready because BYU thinks they should have beat us last year.' "