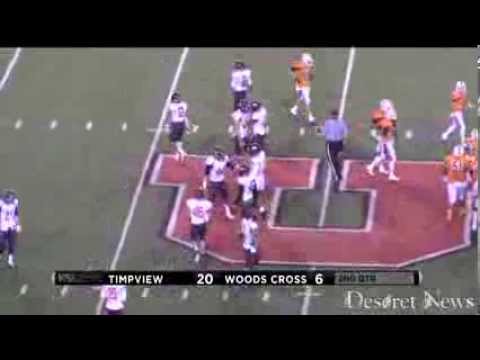 View 4 Items

PROVO — Football fans — particularly BYU fans — would recognize a lot of names when looking through Timpview's football roster.
There's a Kaufusi (Devin), an Anae (Max), a Reid (Gabriel), a Stowers (Pio), a Covey (Britain), and a Van Leeuwen (Rhett), just to name a few.
Those names have led the Thunderbirds to considerable success over the years.
Take T-Bird defensive lineman Gabriel Reid as just one example. The junior team captain is the son of former BYU linebacker Spencer Reid, who played for the Cougars in the mid-1990s.
Spencer came to BYU directly from American Samoa, where he quickly became an integral part of BYU's defense before moving on to the NFL. He played two years for the Carolina Panthers and one for the Indianapolis Colts before sustaining a career-ending back injury.
Spencer's football career was both unlikely and extremely difficult considering his humble beginnings.
"I can't even tell you how different it is over here compared to what I grew up with," Spencer said. "You just walk through Timpview's facilities and man, it's a completely different game almost than what we played back home. But I got used to it and fortunately my son now has the opportunity to benefit from what I went through."
Spencer relates stories of shared helmets, playing without mouth pieces and on almost unplayable surfaces back home in Samoa, compared with the gleaming facilities he was met with upon arriving at BYU in 1994. He also shares of the culture shock and tough adjustments associated with coming to BYU directly from Samoa.
"I can't tell you how many times I sat in coach (LaVell) Edwards' office and told him how homesick I was and how much I wanted to go back home," Reid says. "I battled through all of it and I'm so thankful I did. I benefited so much from my experience at BYU. I got a degree, a chance to play in the NFL, and so many other things."
Spencer still wants to go back to Samoa, but has stayed in the United States so his children could benefit from better education and football opportunities that the U.S. — and specifically Timpview — has to offer.
The story and sacrifices of Gabriel's father aren't lost on Gabriel as he preps to take on East this Friday at 11 a.m. at Rice-Eccles Stadium.
"He reminds me of it a lot and yeah, I'm definitely grateful," Gabriel says. "I love playing for Timpview and for everything I have here. It motivates you and makes you want to play your best."
And the Reids represent just one of many prominent football bloodlines at Timpview, which is a fact coach Cary Whittingham is grateful for.
"I think it helps most with their overall development as players, as much as anything," Whittingham said. "I mean, you have kids that have grown up learning from parents like Steve Kaufusi and Robert Anae (former BYU players and current coaches), and yeah, it definitely helps with the development."
According to Spencer Reid, the football instruction is constant and begins at an early age.
Comment on this story
"I don't know if I started teaching Gabriel right out of the womb, but it was right after that," he quipped. "It starts at an early age and I'm sure it's the same with Devin Kaufusi, Max Anae, and everyone else whose parents played football."
It also helps form a unique sense of football community that the players involved take pride in.
"We talk about it some and we definitely take pride in what our parents have done. We're all extremely grateful for what they've done and it really helps us taking whatever we can from them and then bringing it together on the field," Gabriel said. "We now have the opportunity this Friday to play against East for the championship and we're definitely going to give it our all."
Email: bgurney@desnews.com
Twitter: @BrandonCGurney