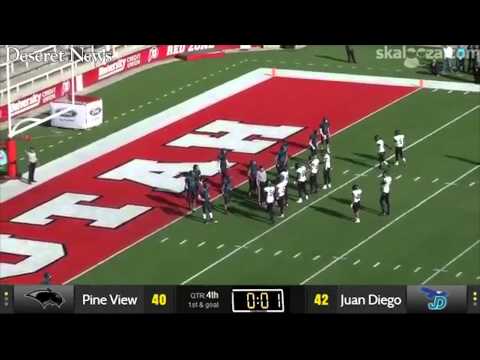 View 3 Items

ST. GEORGE — Scott Anderson squints as he enters his fifth-straight hour of watching the same video.
Anderson, a moviemaker and admitted theater fanatic, sips a cold beverage and tries to get comfortable. The artistic director for Tuacahn Center for the Arts and writer and producer of the hit LDS film, "My Best Two Years," still has hours to go before he can call it a night. Looking for a flaw in the footage, an edge in what he's seeing, quitting early is not an option for the irrepressible Anderson.
Wait! Cut, cut, cut. This is the sports section. What's all this art and theater talk doing here?
Well, actually, Anderson is a brilliant and creative writer, producer and director. But he's also the offensive coordinator for the Pine View Panthers, who play crosstown rival Desert Hills Friday night for the 3AA state championship. And the film he is so closely scrutinizing is game film of the Thunder, who have the top defense in the classification.
"They're good, really good," Anderson said. "I don't get a lot of sleep this time of year. I'm fortunate that my job — my full-time job at Tuacahn — is flexible enough that I can put the time in necessary to be successful as a coach. A lot of people over there, my co-workers, sacrifice a lot so I can do this. It helps that it is the offseason for us at Tuacahn."
Fans of the stage can thank Anderson and his crew for the impressive lineup of plays and professional actors that grace the theater amid the red rocks at Tuacahn.
"I'm over all the shows at Tuacahn," he said. "I help choose the plays and the directors, hire the actors and direct some of the shows. Basically, I oversee all of what goes on stage."
Fans of Pine View football (and offensive fireworks) can thank Anderson for a Panthers team that has averaged 36.4 points a game and has racked up more than 5,400 yards of offense in 11 games this year. Pine View averages nearly 500 yards a contest.
"He's a genius," Pine View head coach Ray Hosner said. "The things he's been able to do this year and when he was with us before are amazing."
This is Anderson's first year back at Pine View, though he was offensive coordinator for the Panthers from 2004 until 2006 and consulted for PV in 2009. He was also the offensive coordinator for Dixie when the Flyers won the state championship in 1998.
"That was the year I got fat," Anderson quipped. "All that time in front of the TV, watching film. I tell people I was 180 when I started. I think I put on 30 or 40 pounds that year."
Snacking issues aside, Anderson has found a niche as both a theater guy and a football guy, two pastimes that don't usually mesh too well.
"I guess I got that from my dad," he said. "In high school, I was quarterback and student body president. In college, I actually was a theater and PE major. I guess I like to be well-rounded."
There's no doubt he has found success in both endeavors. His poignant 2003 movie "My Best Two Years" remains a mainstay in LDS home libraries (and yes, fans, a sequel is in the works). And his offenses continue to set records and score lots of points.
Anderson was one of the masterminds behind some of the top QBs to come out of Southern Utah. Lance Pendleton, the prolific passer on that '98 Dixie team, was the first in a line that includes James Lark, Nick Marinko, Alec Meacham and now Kody Wilstead.
"Ray (Hosner) came to me last year and told me there were some situations where some coaches needed to take a little time off and he asked me if I would help out," Anderson said. "I've been fortunate in that Ray encourages us to open the offense up and let the kids take responsibility for it. After all, these are young men, not boys."
As for his latest protege, Anderson gushes when he speaks of Wilstead.
"He's the best pure passer I've ever coached," Anderson said. "He's not a mobile-type runner like Lark or Pendleton, but there's not a throw he can't make. Because he doesn't run, we have to design around keeping him in the pocket. We've got to spread the field out more with five receivers so he can be our point guard out there. This is a true spread and with his arm we can scheme wider and deeper."
Anderson, who has been in and out of coaching since 1979, said he enjoys the scheming, the daily eight-hour film sessions and, of course, winning. But the biggest reward, according to the theater major, is so much more than all of that.
"It really energizes me being around these kids," he said. "It's the greatest. It's such a boost."
Andy Griffin is a southern Utah broadcaster and sports writer and has been involved in covering sports in Utah, including professional, college and high school sports, since 1989.