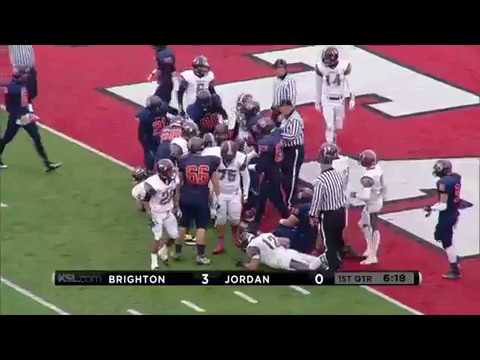 View 3 Items

COTTONWOOD HEIGHTS — In the NFL, teams pay big money for shutdown cornerbacks they can put on an island Sunday after Sunday.
Friday after Friday this season, Alec McArdle has been placed on a similar island for the Brighton Bengals. He's a big reason they're preparing for the 5A state championship game this Friday against No. 1 Bingham.
Marquee players like Osa Masina and Isaiah Kaufusi have certainly garnered more headlines, but McArdle is without question one of the unsung heroes of the fourth-ranked defense in 5A.
"As a coaching staff we just say Alec is going to do his job and let's make sure we cover these other guys here," said Brighton coach Ryan Bullet. "We'll put him on their guy and he'll shut their guy down."
A year ago opposing quarterbacks challenged the junior quite a bit, which proved to be mistake as he finished with six interceptions. This season, though, QBs have shied away from throwing his way altogether.
McArdle has been at his best when it's mattered most. Last week in a 44-20 semifinal win over Jordan, the senior was tasked with covering 6-foot-3 receiver Mason Krueger, and he helped limit him to three catches for 44 yards.
"He's a big kid to stop. Just kind of broke on the ball, used my speed and the ball was thrown, jump and get it," said McArdle. "I felt that was one of my best games. I love when I get to play people like that. It's so much fun."
One of his other better performances came in a 38-28 victory over rival Alta.
Facing Alta's Mack Richards, arguably the best receiver in 5A, McArdle was outstanding in holding him to four catches for 49 yards while also recording an interception.
"We've been putting a lot more pressure in the mid 20s for sacks this year and that hasn't happened for a long time and it's just because we can cover in the secondary and send some pressure," said Bullet. "He's covering back there and he's buying time for our linemen or linebackers to get a sack."
Brighton is averaging roughly three sacks per game this season and is only allowing 16.8 ppg.
McArdle's role against Bingham in Friday's championship game will be a bit different than last week. Even though Bullet said Brighton has played more man defense this year than in the past 10 years, employing a man defense against Bingham is difficult.
"Bingham is a little bit tough to play man against because they run such a good play-action, counter pass. If you man up the fullback he's out in the flat catching a pass wide open," said Bullet.
McArdle said the challenge against Bingham is much different than it was against other quality teams like Jordan and Alta, but one he's looking forward to.
"They definitely know how to run the ball and when they get it outside we have to wrap up and tackle. That's for sure," said McArdle, who said he has to be very mindful of the quick slants in the passing game too.