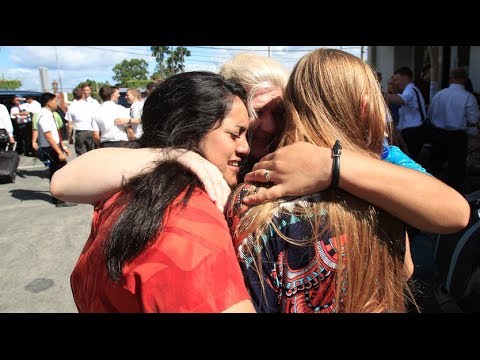 View 4 Items

SALT LAKE CITY — The LDS Church released a video about the recovery of the more than 200 missionaries in the Philippines Tacloban Mission after Typhoon Haiyan recently decimated the region.
Dozens of missionaries were missing more than two days after the typhoon hit, but all were eventually found safe.
However, the mission had to be closed for now. Saturday, the missionaries said good-byes and left for their new assignments. There are now 20 operating LDS missions in the Philippines, and the Tacloban missionaries have been spread out across 11 of those.
Deseret News reporter Jesse Hyde was there Saturday and interviewed the missionaries and church leaders. He filed this riveting report about the stirring escape from a flooding apartment made by 10 sister missionaries.
Eleanor Vera Cruz, a Latter-day Saint who lives in the Philippines, told the Deseret News via email that the presidents of those missions are welcoming the "heroes" of Typhoon Haiyan.
Cruz said she has a friend who was called to the Tacloban Mission and is scheduled to report to the Philippines Missionary Training Center in December. The young man is waiting for a letter of reassignment.
Cruz said the LDS Church has partnered with the Tulong ng Kapatid Foundation to bring relief goods to victims in the Western Visayaz. More is needed, she said, so church volunteers continue to pack goods in chapels and meetinghouses.
Those who wish to donate to the LDS Church's humanitarian aid effort may contribute at give.lds.org/response.
Email: [email protected]