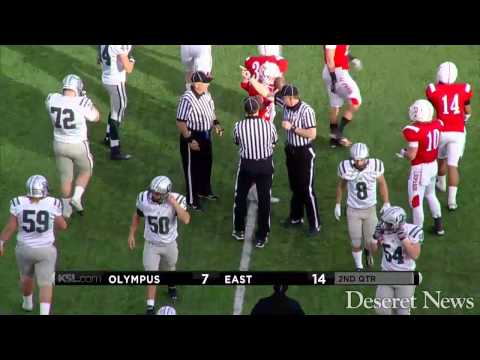 View 4 Items

SALT LAKE CITY — East coach Brandon Matich savors each moment on the football field. He cherishes every pregame speech and every postgame handshake. His passion is palpable.
On Friday, the fourth-year East High coach will kneel in prayer minutes before the No. 1-ranked Leopards face Timpview in the 4A state championship game at Rice-Eccles Stadium. He'll remove his traditional visor and expose a massive scar that reminds him of the night that nearly killed him.
In 1998, Matich suffered a life-threatening head injury while waterskiing at Lake Powell.
"We took a trip down the week after (college) graduation," Matich explained. "I grew up since I was a little toddler waterskiing, and it was a nice, smooth slalom ski. I remember I was trying to jump the wake and I had a pretty aggressive fall. I flipped and spun around on top of the water. After that I don't have any recollection."
Medical personnel believe Matich violently collided with a ski tip as the boat's momentum propelled his body forward as a "slingshot." The impact fractured his skull and severed his visceral artery.
"I don't know how they got me on the boat," Matich said. "My girlfriend — my wife now — said my blood was shooting 10 feet into the air, just rocketing out of my head and pulsating with my heartbeat."
Fighting to maintain consciousness, Matich experienced an out-of-body moment.
"I'm not a religious person, but when it first happened — and I've never said this out in the open — I could see the boat coming back around to get me, but my vantage point was from above," he said. "I saw this girl and she was perched up on the bow. I remember the driver saying, 'Stay in the boat!' and she dove off at me. The next thing I remember I was splashing around trying to gasp for air, but I saw her. It was crazy."
Matich's younger brother, Jonny, beached the boat near Cookie Jar Butte on the lake as family members cradled his wound with towels. Anxiously waiting for transportation, Matich received unexpected assistance.
"The weird part of this story is this Indian guy came out of nowhere and said he was an EMT," Matich said matter-of-factly. "Jonny was saying, 'Don't touch my brother,' and he put some gauze in my head and disappeared into the bush. My family went to thank this guy and he was gone. I don't know — believe what you want."
Eventually Matich arrived to a hospital in Page, Ariz., but rapidly continued to lose blood. Not properly equipped to administer a rare O-negative blood transfusion, paramedics elected to transport Matich to nearby Flagstaff by medical helicopter.
Surgeons quickly discovered a hematoma encompassing half of Matich's brain. The skull fracture prevented fatal injury and or total cerebral necrosis because it allowed pressure to escape, but an emergency operation was needed.
"I remember asking, 'Am I going to be OK?' and (the surgeon) said, 'I don't know,'" Matich recounted. "They go in and take the bone fragments out of my skull; they had to remove the bones to drain it. They screwed a drain in the back of my head and they let it drip and then they stapled these industrial-size staples with this big divot."
Already inherently at risk for infection, surgeons opted to insert a titanium plate in replacement.
"I'm like Cousin Eddie," Matich joked in reference to the character in "National Lampoon's Christmas Vacation." "They say its supposed to be stronger now that my bone has formed around it," Matich said. "It doesn't feel like it's stronger — it's soft and it hurts to push on."
Fifteen years later Matich experiences occasional ocular seizures, which he described as "looking through a prism" — a minor complication from a fortunate outcome.
"I was lucky. It could have been much worse. The actual skull fracture was a blessing," he said. "Everybody (has) problems, but mine happened to be in my head, which people would say, 'That explains a lot.'
"It is special," Matich said of his ability to coach the game he loves. "There are moments when you go through health problems. … Hopefully I've gotten mine out of the way and won't have anymore."
Email: tphibbs@deseretnews.com
Twitter: @phibbs_