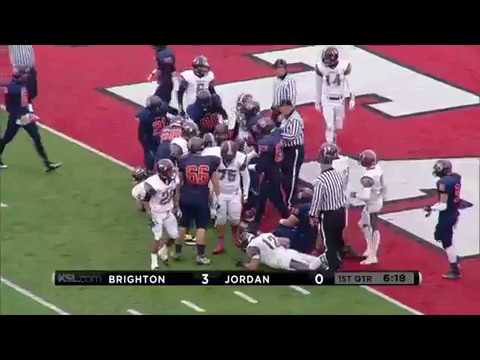 View 3 Items

They made a commitment after that sophomore year to be in that weight room every day.

—Brighton coach Ryan Bullet, on offensive linemen Tyson Aldridge, Nick Giles and Jackson Barton
SANDY — Tyson Aldridge's message to Brighton coach Ryan Bullet was pretty simple. "I'll get better, Coach. I'll get bigger, faster, stronger."
The sophomore — and the rest of Brighton's young offensive line — had just been manhandled by eventual 5A runner-up Fremont, 43-15, in the first round of the 2011 playoffs.
As the dust settled that weekend from the humbling loss, Bullet recalls all of his players, but particularly his linemen, vowing to hit the weight room harder than ever to avoid a similar experience.
At the heart of the pact were three sophomore offensive linemen: Aldridge, Nick Giles and Jackson Barton.
"They made a commitment after that sophomore year to be in that weight room every day," recalls Bullet.
That commitment has been at the heart of Brighton's resurgence two years later. Led by the trio of three-year starters, along with fellow linemen Kai Harmer and Bracken El Bakri, the Bengals have been the highest-scoring team in 5A all season and are a win away from capturing the school's first state title since 1982.
To get there, Brighton must get past No. 1 Bingham at Rice-Eccles Stadium this Friday at 2:30 p.m., but the Bengals certainly have a chance because of their fantastic offensive line.
"We have three guys on there who are three-year starters, and they've been through the bad times and these are the good times for them right now," said Bullet. "They're good teammates to each other and they're clicking."
Friday's championship game features the two highest-scoring teams in 5A, with Brighton averaging 41.9 ppg and Bingham averaging 41.4.
For Brighton, that production is an 18-point increase from a year ago, something Bullet could see emerging in the spring and summer. When he talked with his players about the upcoming 2013 season, they always chatted about getting to the turf at Rice-Eccles Stadium. In past years making the playoffs seemed like a lofty enough goal, but not with the quality it had up front.
At the Ute Shoot linemen challenge back on June 1, Brighton's linemen won every event.
"Our kids prepared for that; they wanted to win that," said Bullet. The victories have been piling up ever since.
Barton said it's been a thrill to reap the benefits of hard work, with the Bengals rushing for 2,926 yards in 13 games this season.
"We just go and practice; we lift weights; we've just been working hard all offseason, and it's paying off for us. I'm really proud of Tyson, Nick, Kai and Bracken," said Barton, a University of Utah commit.
While all five Brighton linemen have been excellent this year, Barton is certainly the superstar of the group. His father played football and baseball at the University of Utah while his mother played volleyball and basketball. At 6 foot 8 and 296 pounds, he's been blessed with their athleticism and is arguably the most dominant lineman in the state.
"He's been here four years, hasn't missed a game, hasn't missed a practice, hasn't missed a play," said Bullet. "I've seen his progression every single year. He's played a little bit lower, got a little more aggressive."
16
comments on this story
Barton hasn't just relied on his genes either. The past couple of years he's consistently been at weightlifting sessions at Brighton both before and after school.
"He had the length already, but to fill out the 300 pounds, that's the weight room and his diet and what he's doing," said Bullet.
Last Friday was Barton's first of what will surely be many, many appearances on the Rice-Eccles Stadium turf. He'd love to make his second appearance just as memorable by capping a fantastic three-year run with his trench mates.
"I know this hasn't happened to Brighton in a really long time and I'm super psyched for the game," said Barton.